I didn't sleep well and felt really low on energy. Even just standing straight I felt like my balance was off. I didn't want to miss out on the skiing, even though I was a bit wary when I followed the group. Today we'd go to Les Menuires, the area adjacent to Val Thorens. We raced down a mostly flat traverse to reach the Masse gondola. At the top we had a very nice view over the Grandes Jorasses. Today we took another long route off piste. After traversing off the slope we had to walk a bit to reach the start and after some more traversing we stood in a quiet snow field. Even though we saw two people who were also hiking up, we were now totally alone.
The landscape was pretty gentle, although there were some challenging parts. There was a fair bit of traversing over a rolling landscape so I tried to control my speed and not to fly over any of the bumps. Our instructor had seen some good snow and so we stayed high up on the side of the mountain and ended up above a big rock. From there we had to go down a narrow, steep corridor, so we sideslipped and then took a couple of short turns. Although the mountain was pretty tracked out, here we found some good snow with few tracks. Valentin took out his drone and filmed us going down. It was the perfect run, sun in our faces, powder ahead. The legs were burning, but it didn't matter.
After this super nice, wide run the snow got pretty heavy though. It had warmed up and was about 13 degrees! With already tired legs turning in that snow wasn't easy, but we managed to get down. At the end was another challenge, some tiny trees sticking out of the snow, leaving only a small passage. There were some tracks to follow here, around rocks and with grass sticking out here and there. At the end we landed on a piste that took us the last few meters to Le Bettex chairlift. From the top we made it to ROC1 gondola for a last run before lunch. We found some deeper snow, but it was also pretty heavy. The slope was steep so we tried some short turns. Unfortunately this was where one person hurt her knee, so from there we skied out to the piste and took only short bits through the deeper snow, while she went on the slope beside it.
We had lunch on the terrace outside in Les Menuires. It was super warm and so nice to just sit. There were only a handful of other people and we sat we sat for quite a while watching icicles fall from the gutters dangerously close to our table. I got so tired I knew I shouldn't ski anymore, so when we left just after 14.00 I decided to ski back to the UCPA with my injured team mate. It took a few lifts to get back up the mountain; Tortollet, Menuires and Mont de la Chambre. From there it was a nice long run back.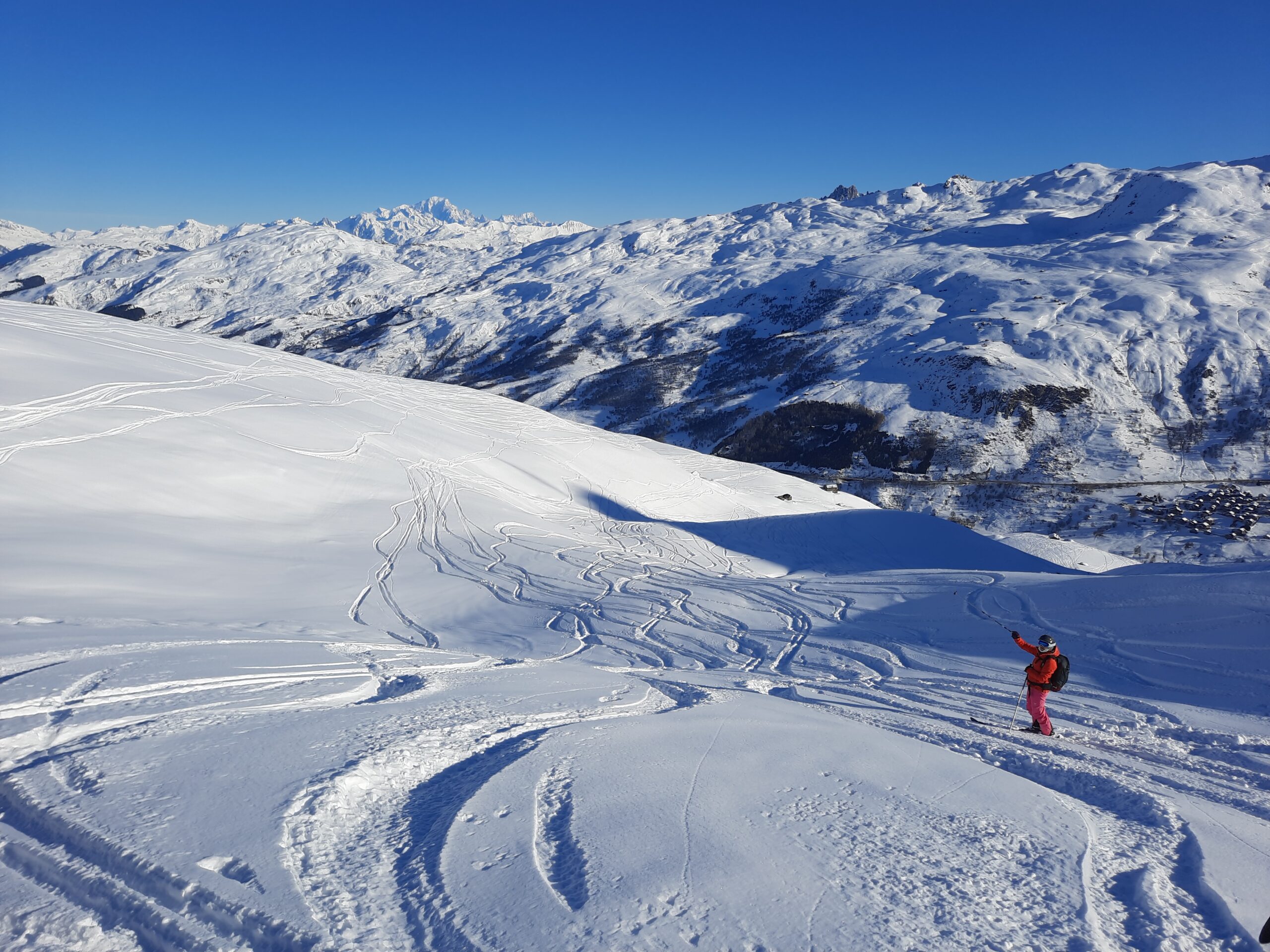 On the last day only 5 of us were left and we went on a trip to Courchevel. So we raced down to Les Menuires again, took 2 lifts all the way up and skied down the other side of the mountain, towards the valley of Méribel. Another traverse took us off piste and although the first turns were hard, the snow soon became super nice. But the legs were feeling it and at the last bit of the slope, which was quite steep, I decided to traverse back to the nearest piste and meet the rest again at the bottom. I wasn't the only one, 2 others followed me. There was one bit where we had to get back on the piste over a super steep slide down. I stood at the edge and shouted "No!". Valentin looked up at me saying "Come on Andrea, it's not that bad". He was right of course. It looked a lot worse than it was.
Since we were all feeling tired from a week of off piste skiing, we decided to do a mix of on and off piste today. It was a nice change. From Méribel we took a long gondola to the next top and then skied down to Courchevel, again a little off piste, passing the airport where the rich land in their private jets, and then ending up on a gentle green run which passed a 5 star hotel and a Louis Vuitton shop. Courchevel seemed to have a lot of gentle slopes. We ended up on a black run without any people, but it felt more like a red. In any case, the snow was perfect, grippy, and it felt amazing to ski down in big turns, feeling the force pulling you.
Even our instructor was enjoying being back on the piste. He filmed us and gave us feedback. We also skied through the border cross and the park, where he did some crazy stunts and I decided today was not the day to fly off the XL jumps. We had lunch on a picnic bench on the top between Courchevel and Méribel and enjoyed the sunshine and the gorgeous views. Right after lunch we tried one more off piste, ending up in the trees. I was exhausted and my fear got to me. I stumbled down the slope, side slipping a bit, falling twice. At the end of that run, we decided to stay on the groomed slopes, enjoying some faster skiing. The perfect end to a great week!