Sucha Bela is one of the most famous hikes in the Slovak Paradise. While researching I'd read it could get pretty busy, so busy even that there may be small traffic jams on the trail. Imagine my surprise when I found a pretty quiet Slovak Paradise. It turns out October was not a popular month for people to visit the national park, even though all the trails are still open till the end of the month (some, like the via ferrata, close for winter). It meant that I didn't have to wait for people on the narrow trails and that all my photos were all about nature. It also meant I was extra careful, and very aware that I was hiking by myself.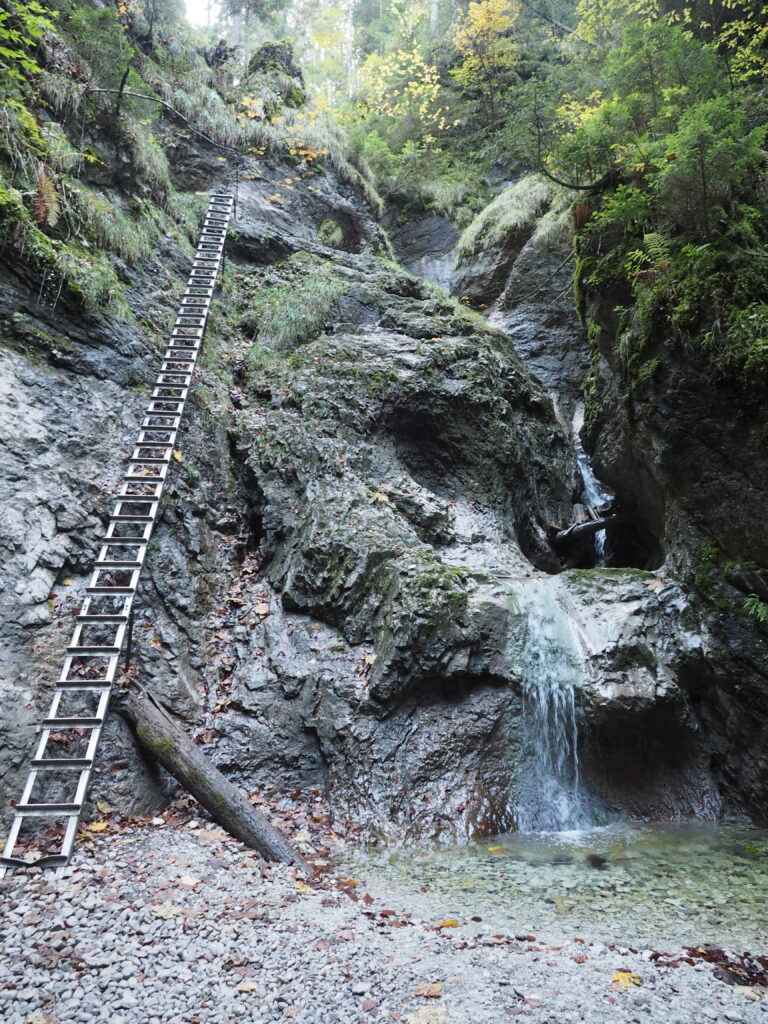 From my base in Hrabušice I followed the main road to Podlesok. I passed empty parking lots and arrived at the eerily quiet base. There were some maps of the area, and closed restaurants and shops. The signs led me to the start of the trail and there was a little 'office' where you usually pay your park fees, which was now as quiet as the base camp. I continued into the gorge, not knowing fully what to expect. I'd been told going up through the gorge would take about 2 hours and I'd seen some photos of the ladders and other obstacles along the way. And very early in the walk, some of these already appeared.
It started fairly easy, walking over rocks and pebbles, branches and tree trunks, trying to avoid stepping into the water. A little stream flows through the gorge, so you are constantly on wet ground. To be fair, unless it has just rained, October is probably one of the dryer months. The streams weren't very big and neither were the waterfalls. The autumn colors were vibrant, with yellow and orange coming through the green foliage. But autumn also meant that there were a lot of leaves covering the path. My eyes were mainly focused on the ground, making sure I didn't step into any holes or would twist my ankle. Though every time I looked up, I was rewarded with beauty.
Initially it was just like any other hike, with here and there some basic wooden bridges to help you over the water. They were basically like ladders that were horizontal or close to it. There was nothing to hold on to though, so you needed some balance to make your way across. As I went up one of these bridges, one with a slight slope upwards, I felt my foot slip down slowly. One of the rungs on the ladder had come loose and was sliding down, taking my foot with it. Yikes! Although it was a really cool hike, I did encounter more wooden ladders that had rungs missing or that looked like one might break soon.
Luckily the majority of 'aids' was made of iron and looked pretty sturdy. The most impressive one of all was for sure the first real ladder. It was at an angle of maybe 45 degrees and had a chain next to it. I wasn't sure how to tackle this. Normally you just climb up a ladder using hands and feet, but this one was at such an awkward angle, so I held the chain and pulled my way up. It was the most awkward thing and I was shaking a little as I stood on the top. I looked at the waterfall flowing down beside me. It was gorgeous. Ahead of me were more ladders and other things to help me through the gorge. And Sucha Bela is a one way street, so there's no turning back once you've started. The only way is up!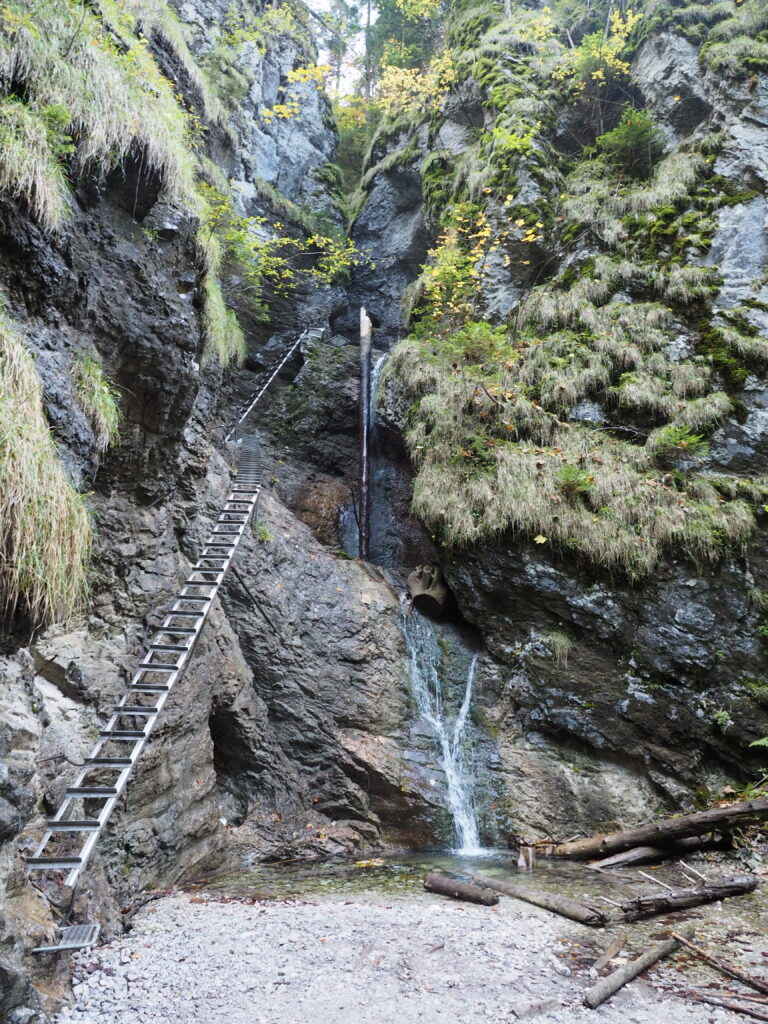 And so I kept going up and up, finding my way through Slovak paradise. It was like a big empty playground, playing a game where you cannot touch the ground. Sucha Bela was exciting, enchanting and exhilarating. This hike is not for anyone with a fear of heights, but if you like a little bit of adventure, this is the place to visit. With the ladders you gain altitude so quickly and I loved having the time to stand still on top of a rock, looking back, looking down, looking up and around. This place is magical! A hike like this would be interesting anywhere, but the forest in its autumn colors, the leaves on the ground, the moss, mud and many random branches created a dream.
If you're also going to the Slovak Paradise national park, you can find the full hiking route on Komoot. I stayed at a great place called Villa Raj, in the town Hrabušice. You can reach it by bus from Spišská Nová Ves.