As part of my Kyrgyzstan trip I'd booked a private trip with a guide trekking through the Alay mountains. At 9am my guide Elaman picked me up from the hostel and after dropping off extra luggage and receiving a brief explanation of the trekking, we were on our way. I didn't really feel like we were going to the mountains until the car dropped us off on the hillside of Chyyirchyck Pass. The landscape was dry, yellow. There were some small houses and yurts. Unfortunately it had started to rain, so in full rain gear we started going uphill.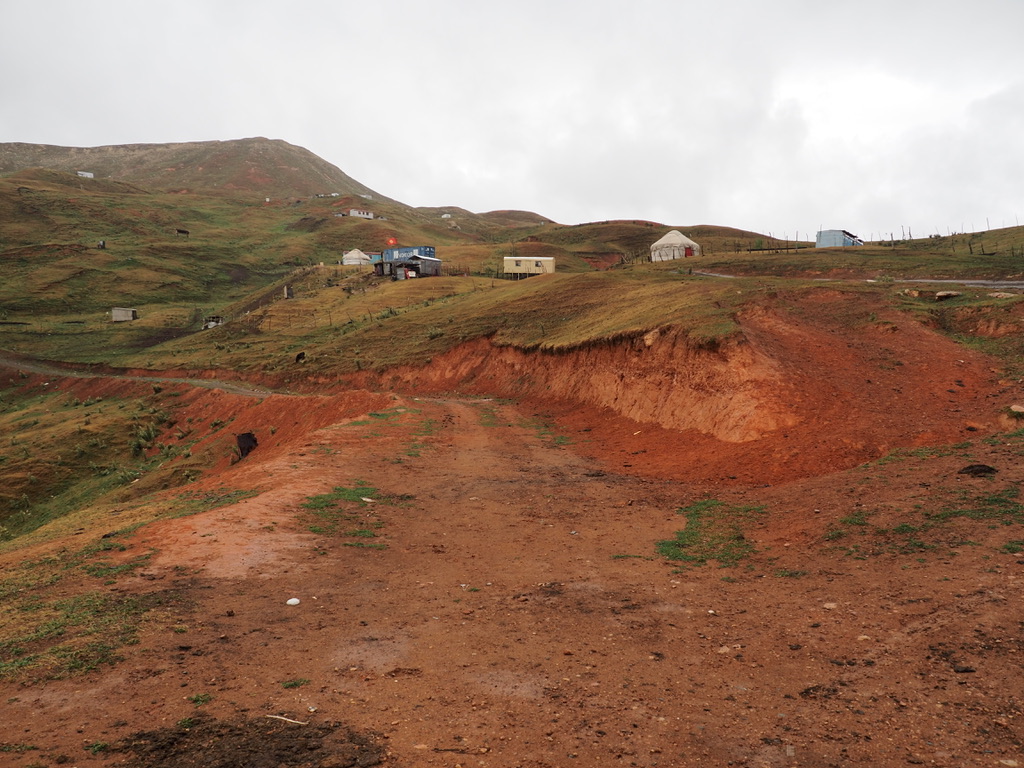 In those first minutes I thought I'd better turn around. What was I thinking? Did I really need all the things in my bag? Could my legs really carry me over the passes for these 3 days? But after the initial steep climb, the landscape seemed to give me some respite. We walked past a yurt camp and came into a little valley that was going up to Kum Bell Pass. It may have started gently, but quickly turned into a moment of despair. My guide seemed to be walking up in a brisk pace with all the energy in the world. I was behind, puffing heavily. It had stopped raining, but the clouds were following us up the valley and Elaman encourage me to go a bit faster.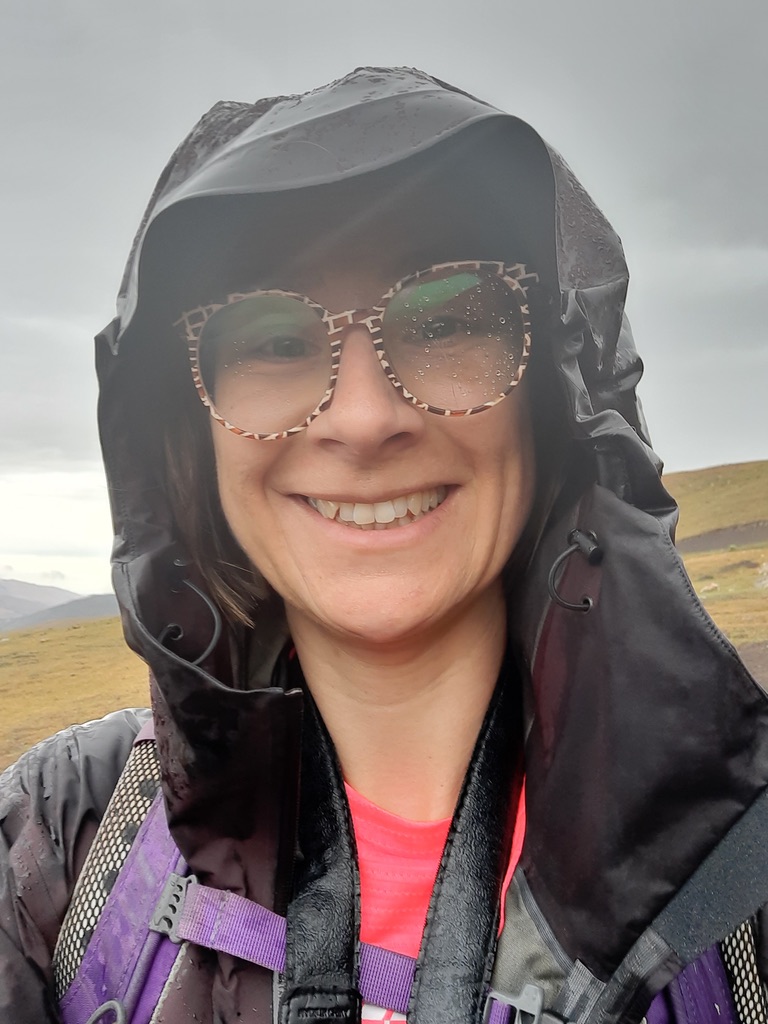 The path slowly turned to scree, my feet slipping on the loose and wet rocks. I was happy with my one pole, helping me balance. On the steep slopes on my left and right were a bunch of sheep and cows. Occasionally a small rock came darting downhill like a rocket. I guess the sheep didn't want me here. Another step. Another breath. It was exhausting. The very last bit was pretty scary, as I traversed over the hillside, trying not to slip. And then I reached the top and stood in the clouds. But when the clouds opened, they revealed a panorama, as if the curtains finally opened for the big show.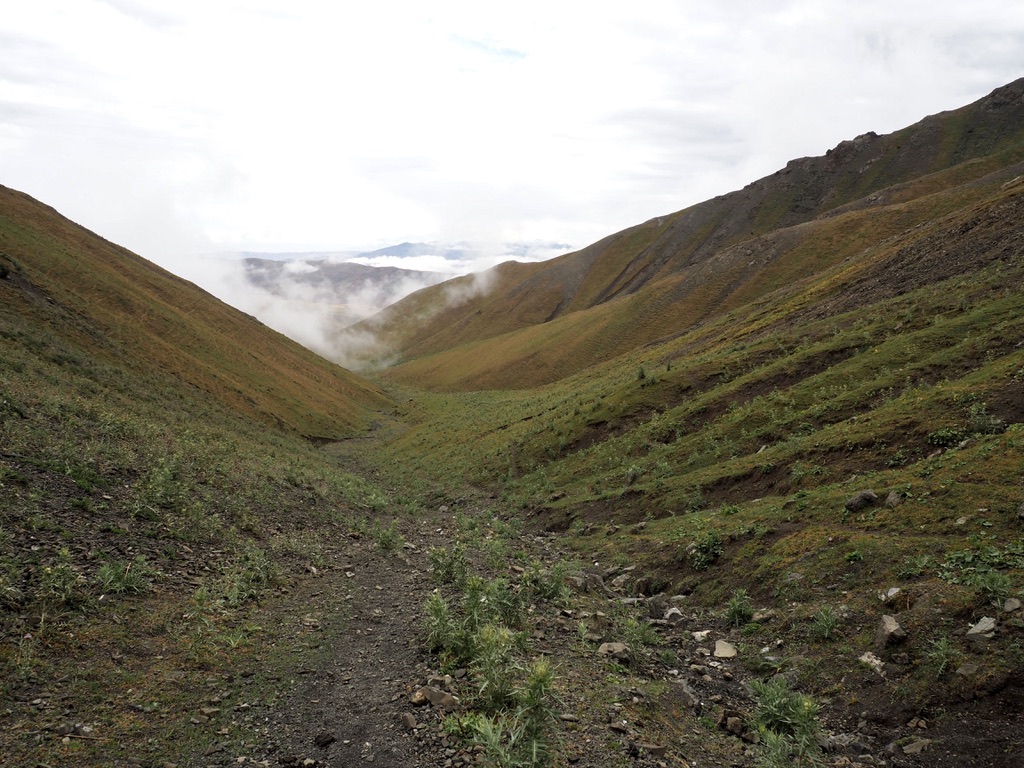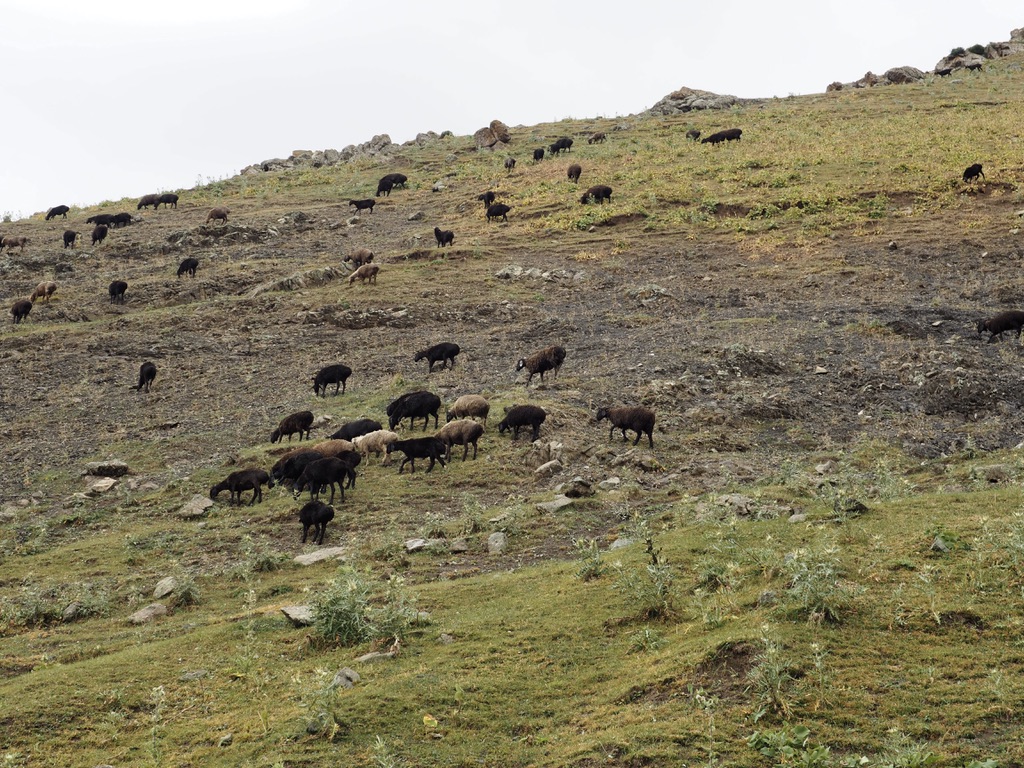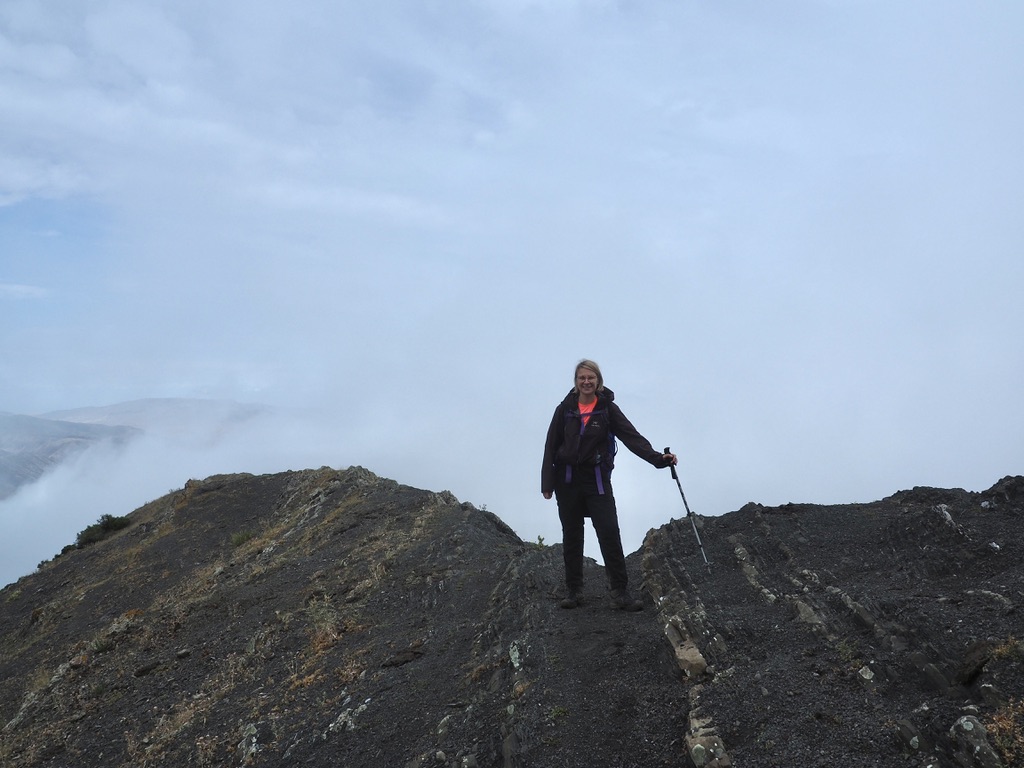 Luckily we spent some time at Kum Bell Pass (3154m), since it was also today's lunch spot. I stared out over the colorful landscape. This is what I'd come for. It was so much greener, but further along I saw reds, greys, orange and yellows. Eleman pulled a whole bunch of food out of his small backpack. I'm really not sure how he could fit so much in there! Cows walked by us, sometime accompanied by a man on a horse. For the rest of the afternoon, we would follow into their footsteps. The animals had made many small trails all over the mountains. So rather than following one hiking trail, we hopped from one to another and somehow made our way down again. Whereas I'd tried to avoid the poop in the beginning, I couldn't care less anymore where I placed my feet. My boots were caked with a mix of mud and poop. My rain pants looked brown at the bottom.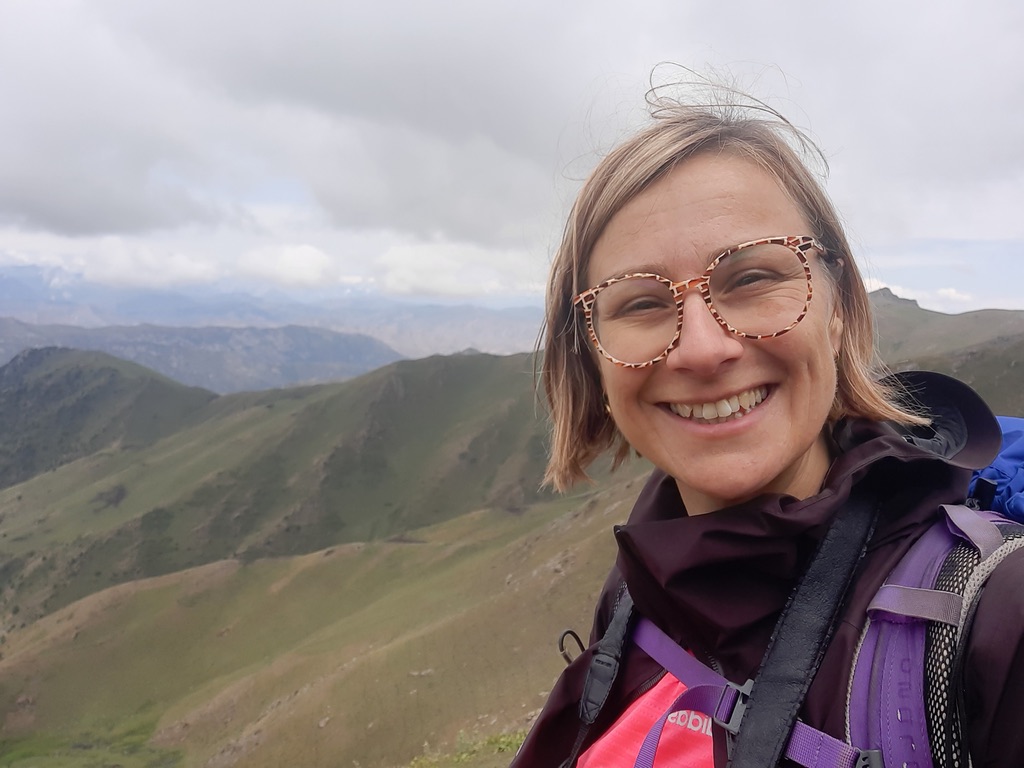 We continued, shooing cows away from our path. Marmots called out to their friends, as if to say "stranger danger". It's a really funny sound. About halfway down, my legs felt shaky. Some parts were just straight down the mountain, rather than following a track. But I could already see camp in the distance. There were many families spread out in this valley. We stayed at one of the further back lying yurt camps. "I, 37. Five daughters, one boy. Baby." said my hostess while I was sipping tea. Wow! How different life could be. I got well fed and then the yurt was transformed into my bedroom. There were some thin mattresses stacked on top of each other and a bunch of pillows, so that you were almost sitting up. Sort of like on a sun bed. Then I got a stack of heavy blankets to keep me warm.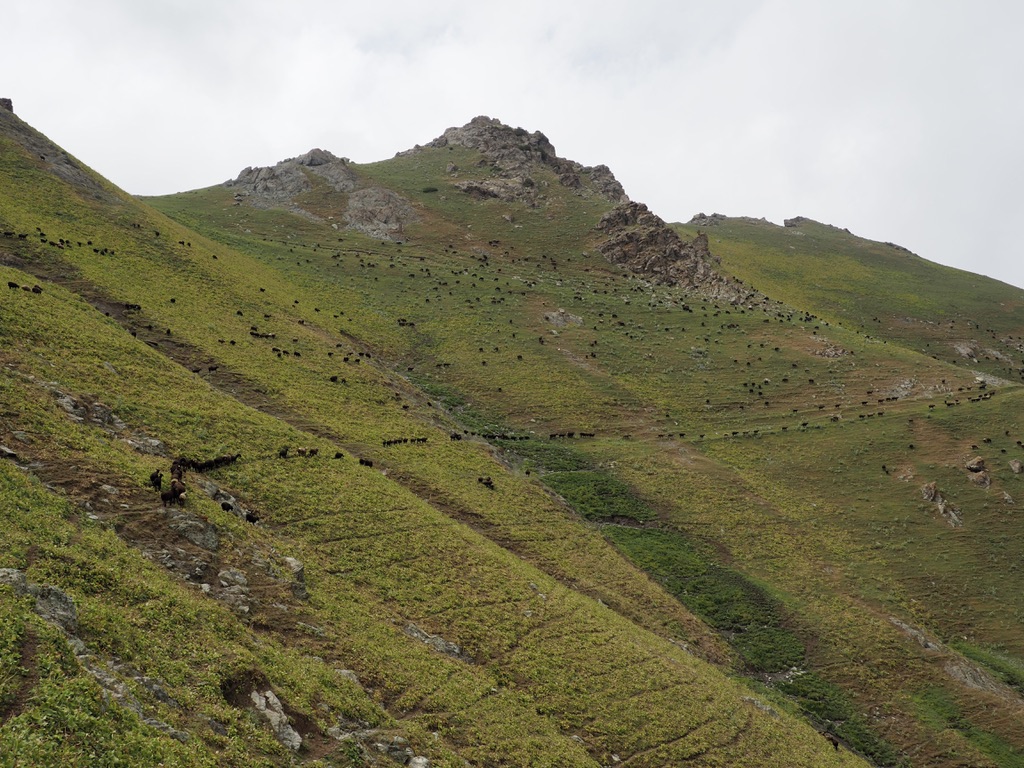 I didn't sleep as much as I'd hoped, but started the second day full of energy. Within the first hour I again had a very steep section, but it brought us over into a beautiful valley that we would follow the entire day. There was a small, but powerful river that gushed over the rocks. Because of the rain it was a little higher than normal, so we had some occasions where we had to wade through the water. At times there were some logs that functioned as a bridge, but let's just say I preferred walking through the water.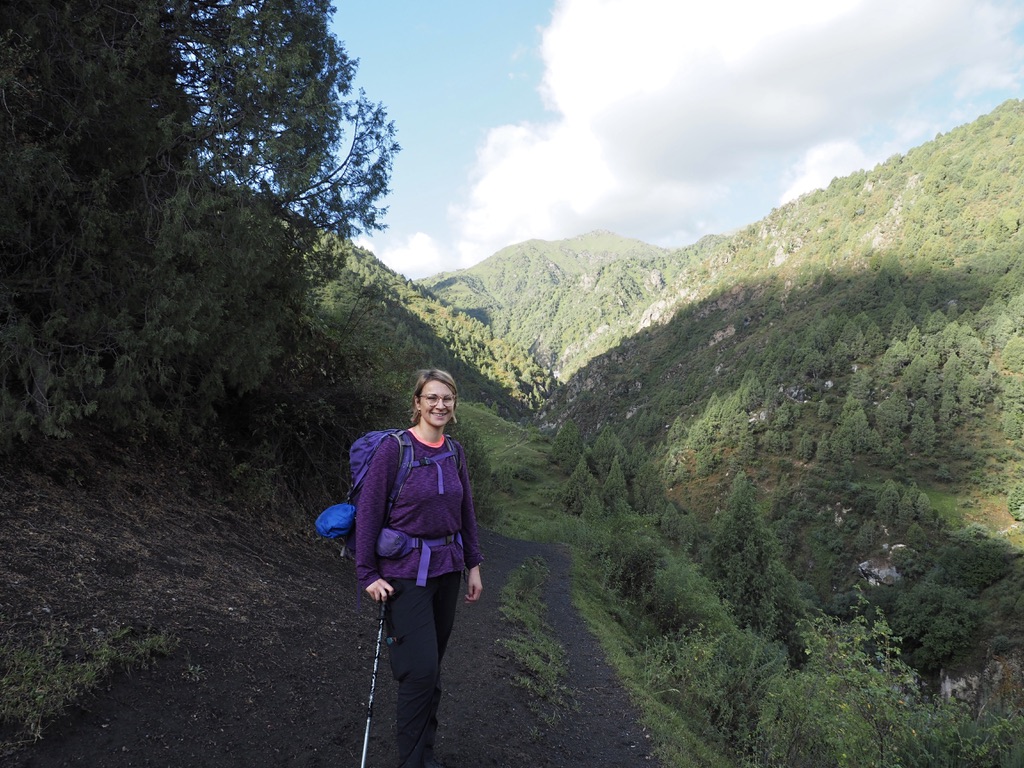 Again there wasn't just one clear path to follow. For each section Elaman had to pick a side of the river. We climbed onto the sides of the hills, going up and down, but reaching spectacular views over the valley. There were some camps and shepherds in the valley, who would give Elaman advice on where best to walk. The valley slowly increased in altitude. Today's picnic was on the side of the river, sitting in the grass, with a big rock face behind us. The water was mesmerizing, the sound taking me away into a trance.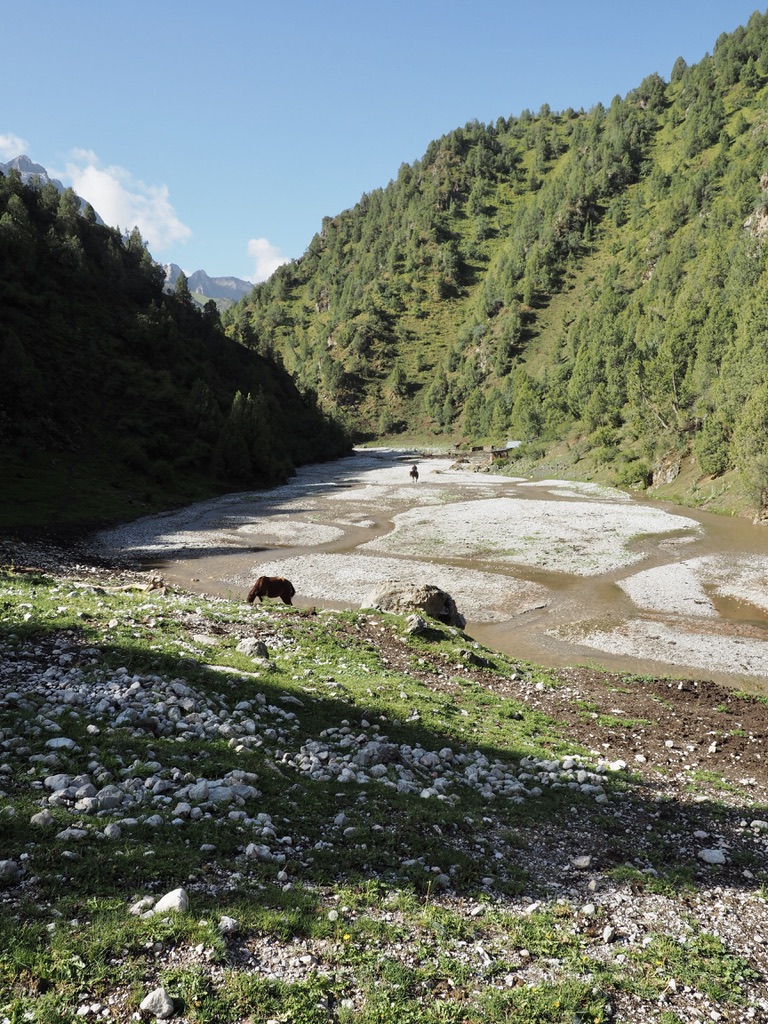 I was impressed with all the cows. They really went up super high and on the steepest slopes! At times we were following a cow trail, prickly bushes trying to catch my legs, and I got nervous. The trails were rather small and the drop down on my right, rather steep. Then add some steep, slippery sections to that and the risk of slipping in cow shit. At some point I was also impressed with myself. We got further down the valley and it was still equally green. The kind of green that only seems to appear in Willy Wonka or Alice in Wonderland stories. Then a boy, maybe 9 – 10 years old, passes us on a horse, totally alone. A bit later Elaman says we're about 30 minutes away. I see absolutely nothing ahead. But indeed, after about half an hour the yurt camp pops up from behind a little hill.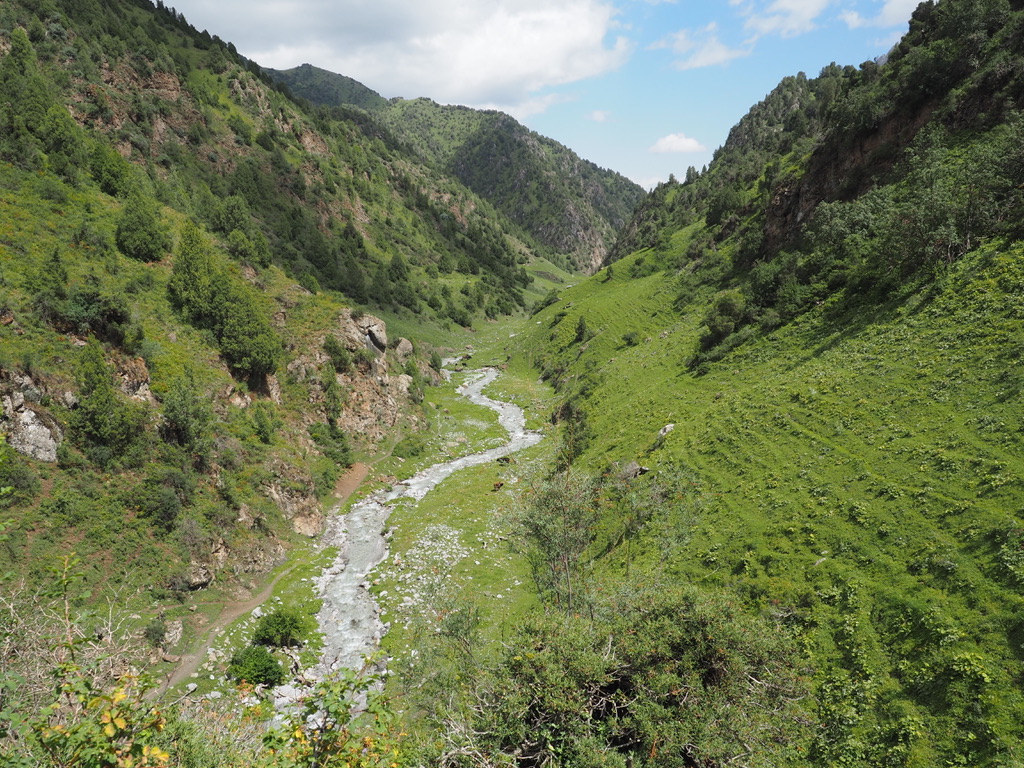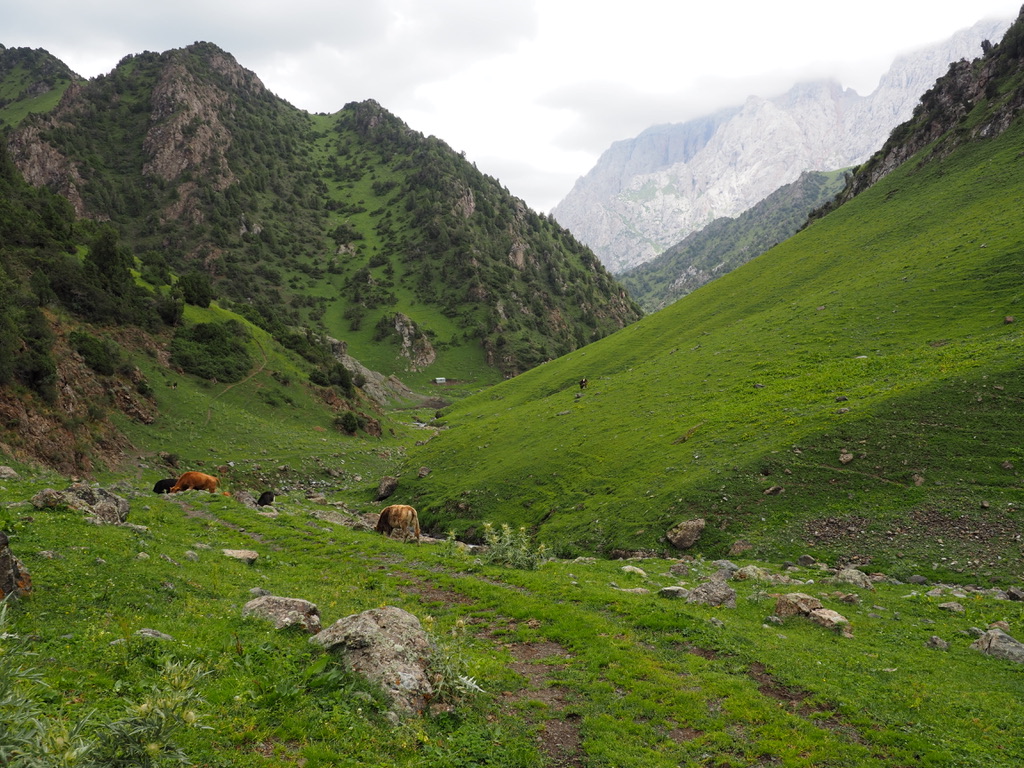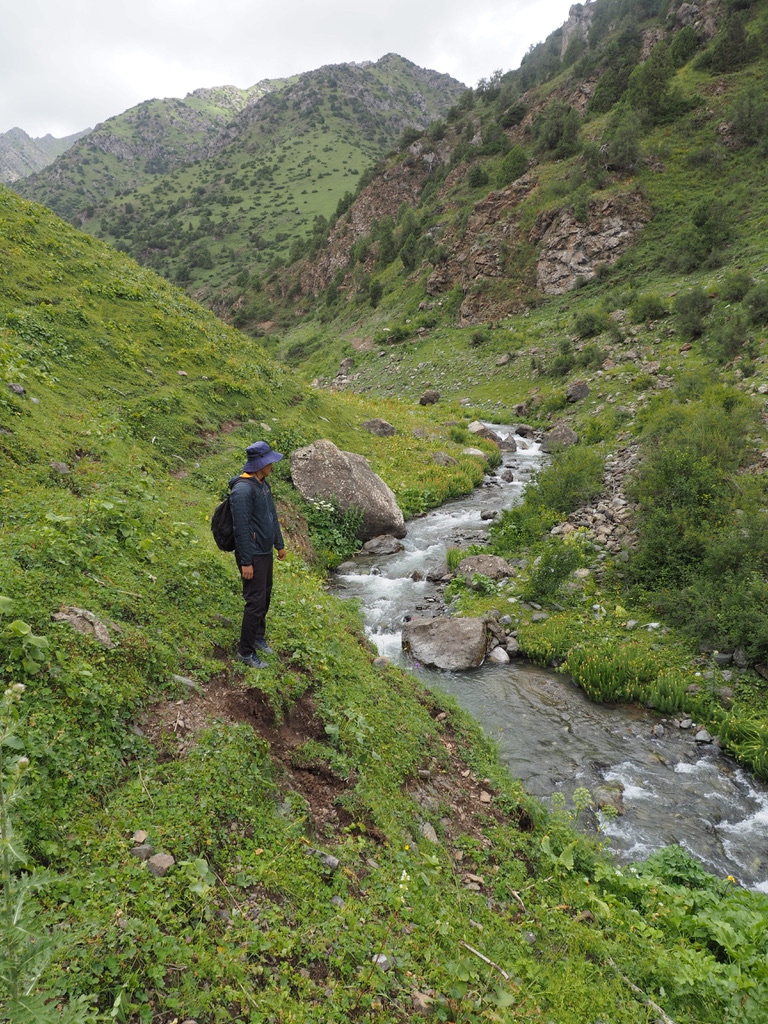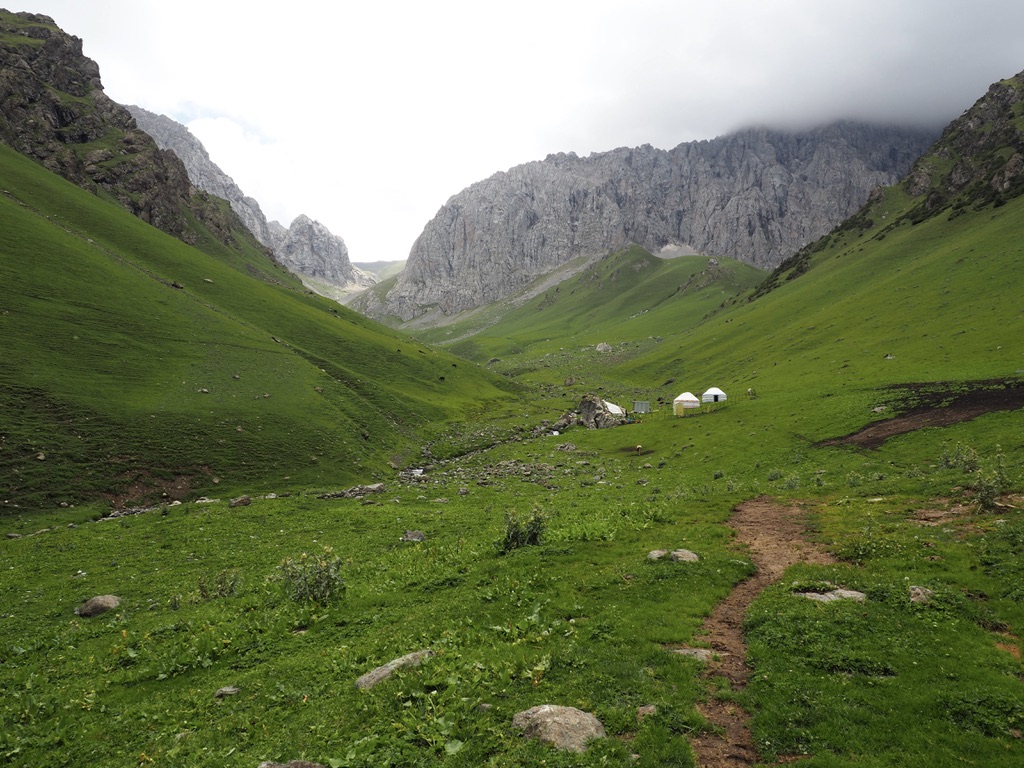 Since we're super early I can see the heavily pregnant woman of the camp baking bread in their traditional stove. When it's ready I enjoy the warm bread with a cup of tea. A bit later she comes to bring me Borsok, a type of fried bread, also warm. The long afternoon was an exercise in mindfulness, since I had nothing but my notebook to keep me busy. It was a true joy to watch the youngest son waddling around the camp though. Barely walking, wrapped in a onesie and a hat with ears, he was like a little explorer, constantly trying things. His older brother repeatedly had to pull him off some boulders. He picked up a stick and pretended to cut wood like his dad. Then he walked around again, sucking on one of those dried yoghurt-cheese balls people here seem to love. Every time he caught my gaze his chubby cheeks went up and he chuckled, a cheeky look in his eyes.
The camp was at over 2900m in altitude and that was noticeable by the cold. It got soooo cold! In the morning I wasn't feeling very well, so the trek up to Ak Tor Pass, at 3557m, was tough. We said our goodbyes, the baby going "hello, hello" and then followed the valley to the pass. The air was getting thinner and everything was aching. My stomach was upset. I felt dizzy. I didn't even know what the cause of my struggle was anymore. I felt weak! But with little breaks I powered through and was surprised when we suddenly arrived. I stood there between 2 massive rocks, looking out over a new valley and looking behind me at the long way we'd come.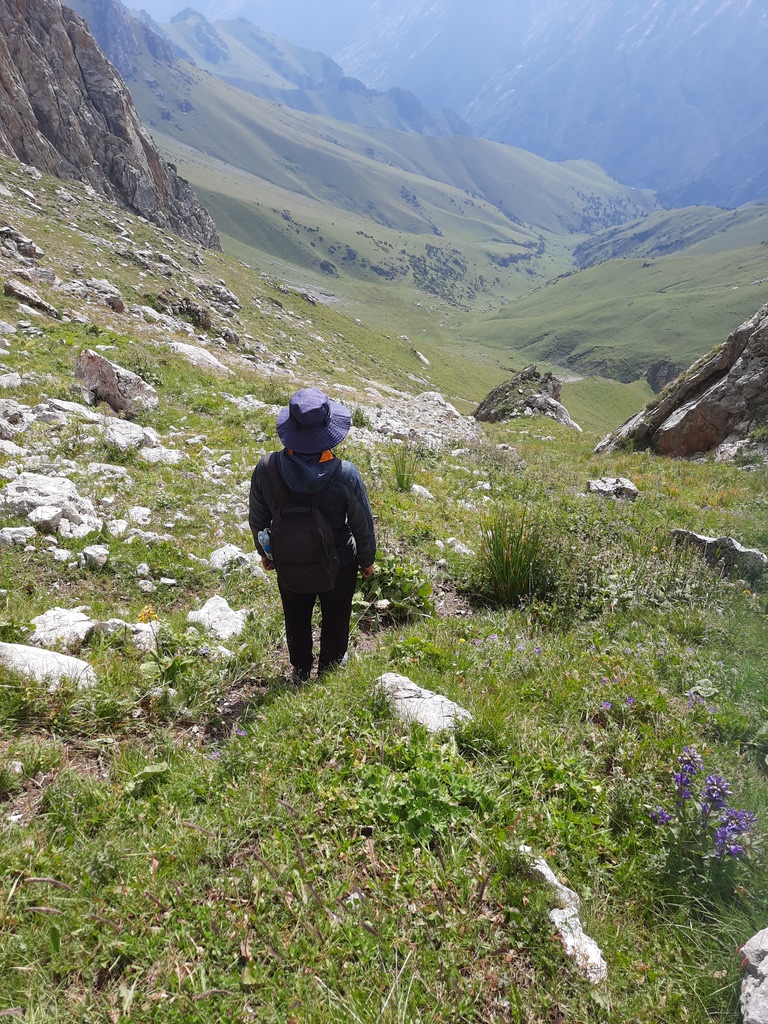 But all those meters up, also had to come down again. In front of me I saw a field with tall grasses and plants that hid some treacherous rocks. We were going straight down and I had no idea where to place my feet. The steep slope seemed never-ending and yet when I looked back I couldn't believe we had stood between those rocks just moment before. A bit later it flattened out and we even found a path left by other hikers. In the distance I saw a small house. Around lunch time we sat on a hill near it, almost finished. The last little bit of the path wrapped around the mountain to another small valley. I really enjoyed this last part. It was still green, but also filled with rocks and another little river. And at the end of it, our driver was waiting to bring us back to Osh city.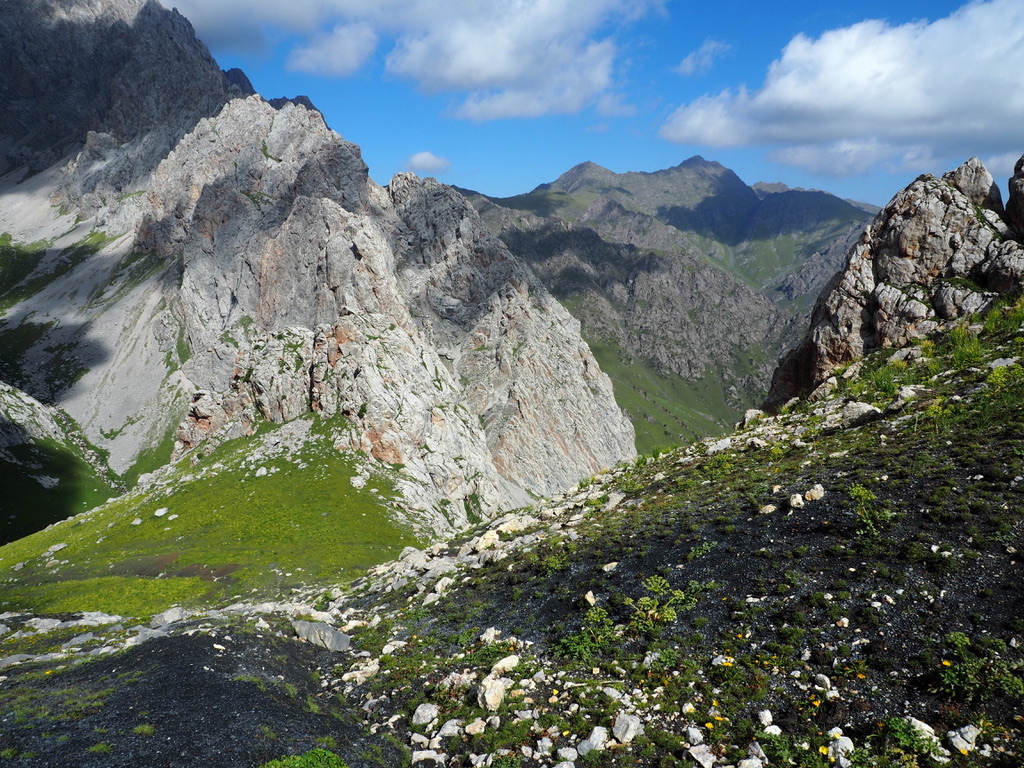 Even the drive back through the Murdash valley was incredible! Over a dirt road, rock formations on both sides, a wild river on my right. Elaman fell asleep, but I couldn't stop looking around. I was satisfied. This trip had been a lot more technical and challenging than I'd expected. Mainly, because there wasn't really a path or any signs. I don't think I would have been able to find the way on my own. At first I was apprehensive about being the only person with my guide, but Elaman was easygoing and easy to talk to. He honored his name, which means "he who takes care of the people". I enjoyed my interactions with the people and cows I met along the way. This trek was a great peek into rural and semi-nomadic life.