On Thursday I decided to buy a ticket to Berlin's long night of the museums, a night where many of Berlin's museums open their doors until 2 AM and offer special programs like performances and express tours. With one ticket you can visit it all. It seemed like a great plan.
However, on Friday night I attended the company party at the Napolean Komplex. The theme was 80s and after weeks of stressing about the outfit I ended up buying a cheap T-shirt, putting some beads on a string and going overboard with make-up and hairspray. Unfortunately, after many nice days, on Friday a storm rolled into Berlin. It was pouring down and seemed to ruin the party. I think it mostly ruined my hair. No amount of hairspray would keep it up.
Arriving at the event venue we had to walk over pallets to cross the puddles of rainwater. But at least it had calmed down. Inside the huge halls, that were once part of the train company, the party was already starting. One hall had some food stall, with already a huge queue for the main dish: barbecue. At the very end of the hall stood some old arcade games. It was great to see at least about half the people had actually come in the 80s theme. The rest of the night we danced, picking our favorite of 3 dance floors. We screamed along with the karaoke, led by 2 people in drag, and kept the aperol spritzers coming. Needless to say, I was super tired on Saturday. And I hadn't even stayed super late!
On Saturday morning I experienced major regret about buying this museum ticket. I didn't even know yet where to go, so an hour before the museum night started, I scrolled through the website and made a list of potential candidates. There were some things in my neighborhood, including the old AEG tunnel where the Berliner Unterwelten does tours. I've done a lot of their tours, but had never heard of this one, so I decided to start there. But as 6 PM was approaching, I couldn't bring myself to get up and leave the house. A little later I found the energy and walked to Voltastraße, hoping it would be easy to find.
I arrived and saw a lot of people leaving. When I saw the line I wasn't sure if these people had actually gone in already or if they just gave up. The line wasn't huge, but it didn't really seem to be moving. Every now and again I could shuffle forward because some people in front of me decided to leave. There didn't seem to be any other movement. After about a 45 minute wait I found out why. Every 15 minutes a group of 20 people was let in. I looked at my watch. 15 minutes later there still didn't seem to be much movement. And the queue only grew and grew and ended up all the way on the street.
It seemed like a miracle when I stepped into the small courtyard where the entrance was. Hesitantly I started counting the people in front of me. I was number 19. I just hoped that the random people sitting on the sides didn't belong to someone in front of me. I had stood in line for 2 hours before I could finally enter! I was freezing by that time. The people who were at the end of the line now would have to wait for at least 4 hours!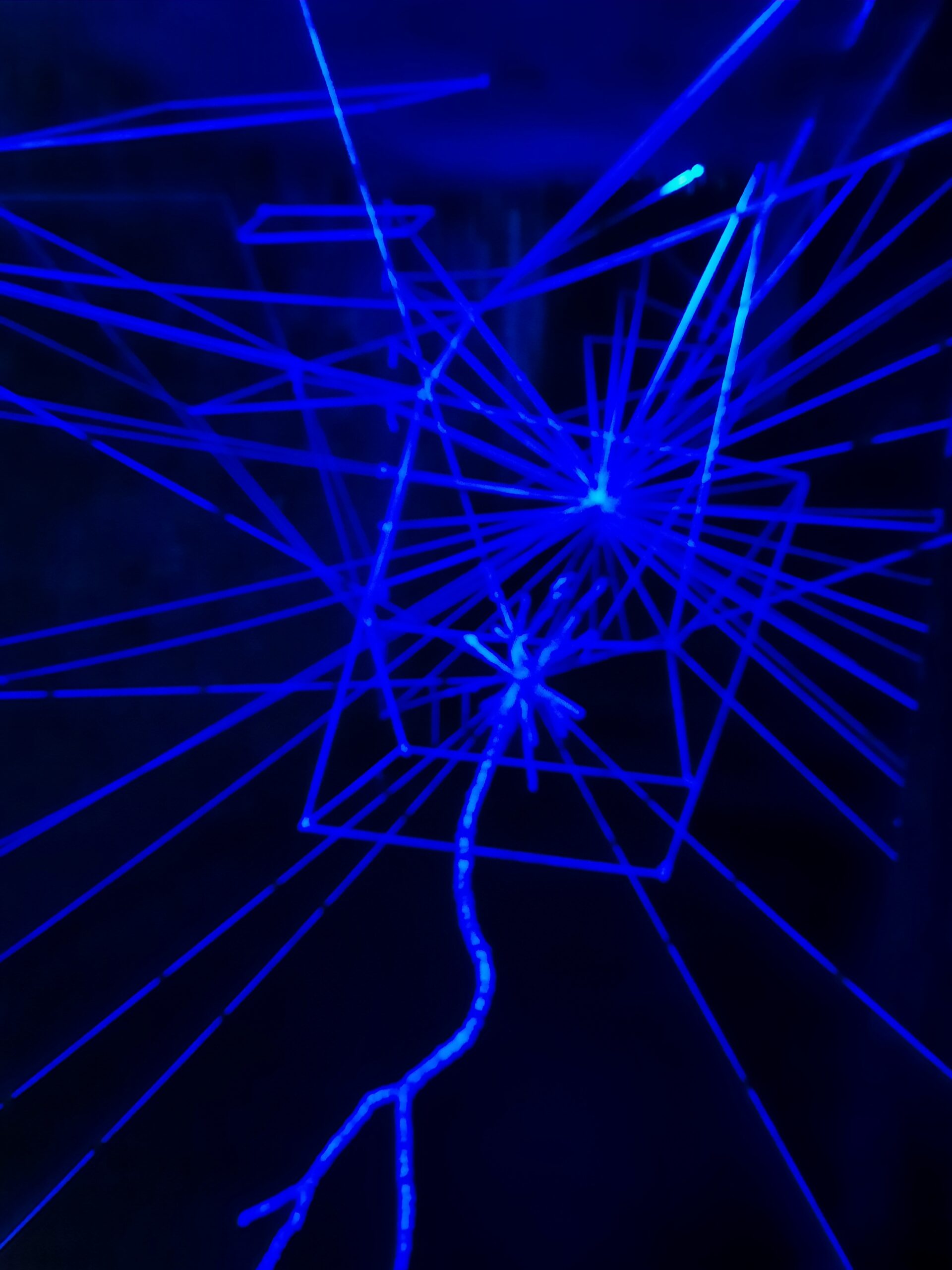 Once underground, our small group got to watch a video. The narrator of the video immediately said something like "the following information is to be taken like a fairytale and the facts are questionable". Through pictures of what seemed to be old items and drawings the scene was set. There was a sea-goat with a tail like a fish and the body of a goat, like the constellation of Capricorn. The story of this performance is that a planet went out of orbit and needs to be brought back. Add some mysterious sounds, a pinch of superstition and a dose of coincidence and the Berlin tunnel system was shaped exactly like the constellation. It was the key to realign the universe and we were entering the tunnel to experience it.
The tunnel was actually built in the 19th century by AEG as the first attempt in Berlin to build a metro line, just like they had in London. The tunnel is small and really round, like you are in a big tube. The lights had been adjusted to shine in a bunch of different colors and strings and blacklight led into a sort of web. There was a sort of ominous sound, a deep voice telling a story and then the chatter of our small group. At the very end of the tunnel we found a screen with two men sitting in front of it. On the round screen it seemed like and embryo was being created. They were capturing the lost planet and pulling it back? I was a bit confused by the whole experience, but it was certainly special.
I was so cold I was shaking by the time I climbed out of the tunnel again, so I went back home to pick up a jacket. It was already close to nine, much later than I had expected, so I scratched most museums off my list and decided to head to the planetarium in Prenzlauerberg. I was a bit afraid of the line I'd find, but it wasn't too bad. I just had to show my ticket and was given a ticket to the next show. An impatient lady behind me started asking the staff questions over my shoulder and pushed her tickets in front of his face. Once again I felt invisible. The guy handing out the tickets thought we were all together and handed her 4 tickets. I asked the lady kindly if she'd gotten 4 tickets, since I didn't have one. She looked at me annoyed, only half listening, like I was attacking her. I repeated my question. Visibly frustrated she put up the tickets, snarling she only had three. In front of me I saw 4 tickets. She apologized sort of, and handed me one.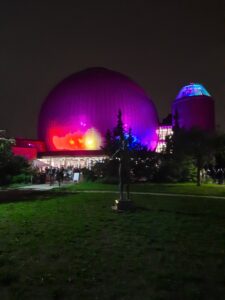 There was another wait of 30 minutes before the show started. Another line to enter the viewing room. I found a seat and relaxed. Just before the show started I saw the lady and her 2 companions coming in, frustrated once again, because they couldn't find a seat together. I rolled my eyes. The show started with an introduction by the director of the planetarium. The show had a bit of everything. We watched the night sky and he pointed out some highlights we could see in the next few days. We also got a show to the music of the Beastie Boys song Intergalactic. And there was a laser show. I really enjoyed it and should check out their program sometime.
It was past 11 PM when I left the planetarium. There were about 2,5 hours left to explore, but all I could think of was sleep and how bad I would feel the next day if I again didn't get enough of it. So instead of heading into Mitte for more museums, I took the S-bahn home. I'd seen 2 really cool things. If I'd do it again next time, I'd plan a bit better, making sure to be very early at any event that had very limited capacity and perhaps plan some more regular museums. I stood in line more than the time I spent inside the museums. I'm still glad I dragged myself out of the house to see Berlin buzzing with life.