I still wasn't sure if I had altitude sickness. For a couple of days I'd just been feeling kind of weird and weak. When we climbed I could hear my breathing inside my head as it seemed my ears blocked. I had some headaches and one night I had no appetite. But it didn't get worse and I still had enough energy to walk. And so I took on the challenge of traveller's pass, the first pass to cross for anyone who attempts to climb Lenin Peak, at 7134 meters, the border between Kyrgyzstan and Tajikistan. I had no illusions about ever climbing up to that altitude though. The traveller's peak, at 4100 meters was enough to wrap up my hiking adventures in the Kyrgyz mountains.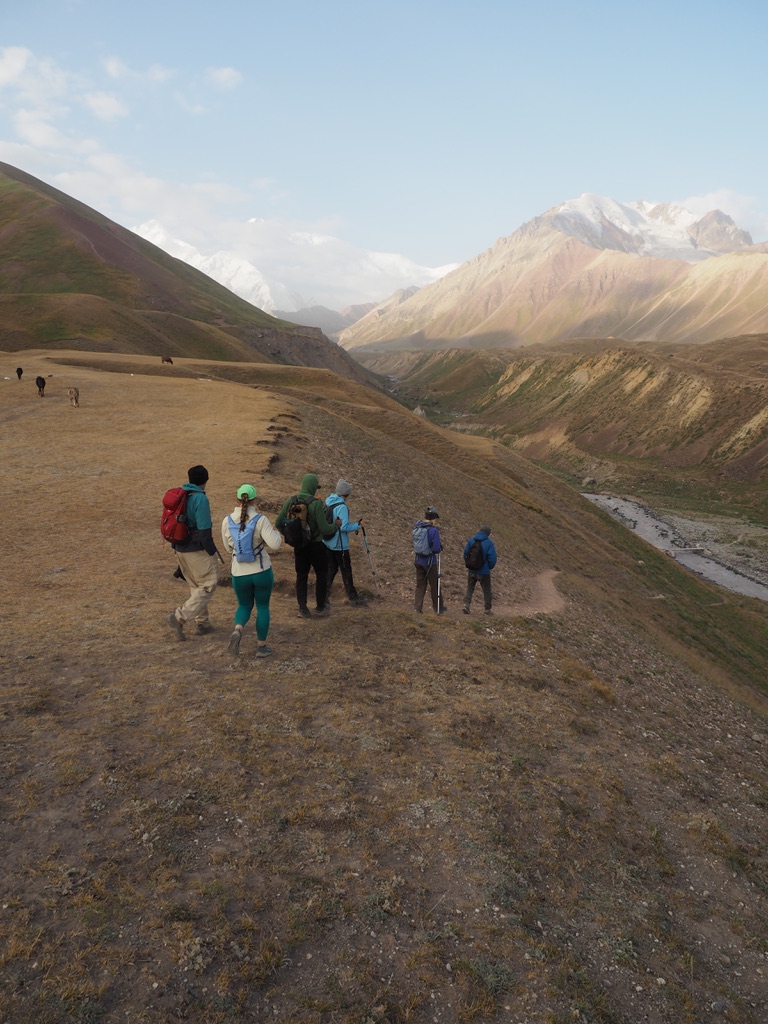 From the yurt camp at Tulpar Kul we walked down a hill to cross the river. On the other side we could walk to the Lenin Peak base camp. We were one of the first groups out, so we had the path almost to ourselves. It wasn't until later in the morning that we learned just how popular this area was. At the base camp we saw yellow tents lined up from many companies. Some had made proper paths, garlands with flags and sign posts with distances. It was a different world from the Alay mountains, where none of this existed. There were yurts, small buildings and shipping containers, housing a small hospital and a restaurant. We left the climbers to their breakfast and kept going.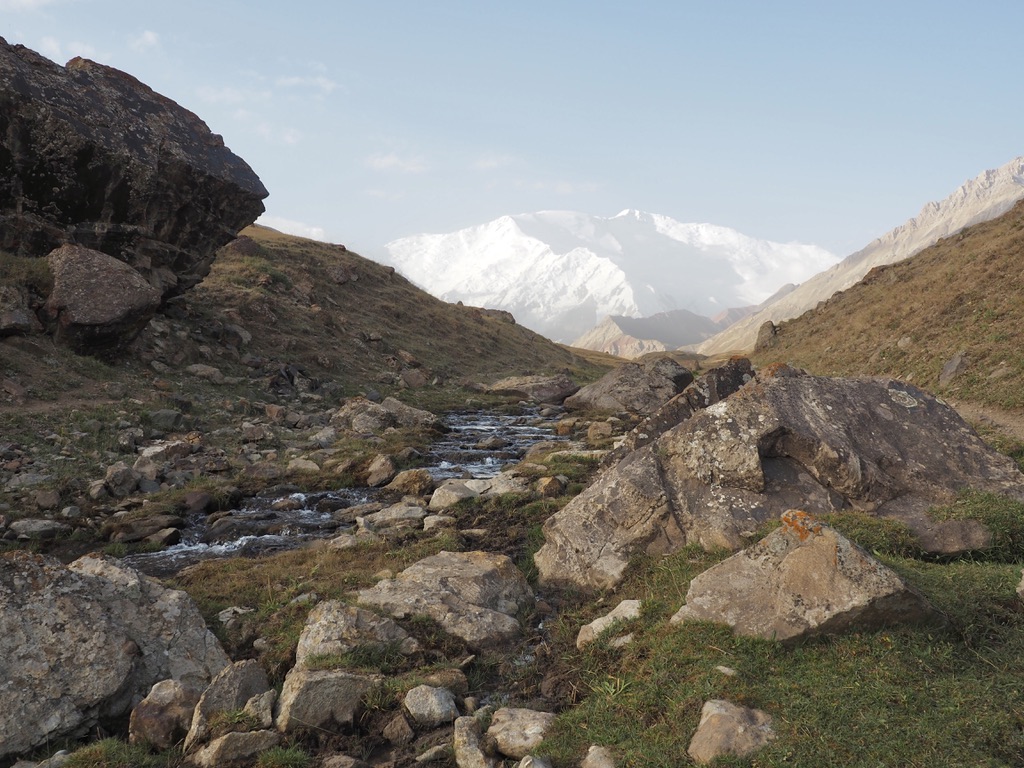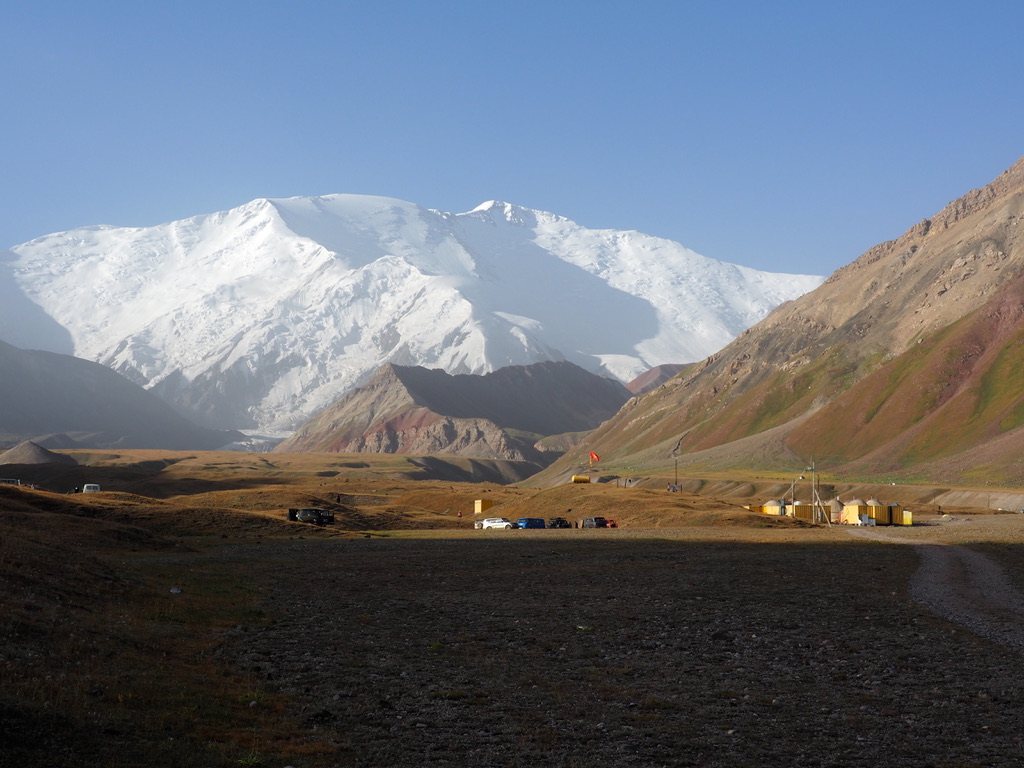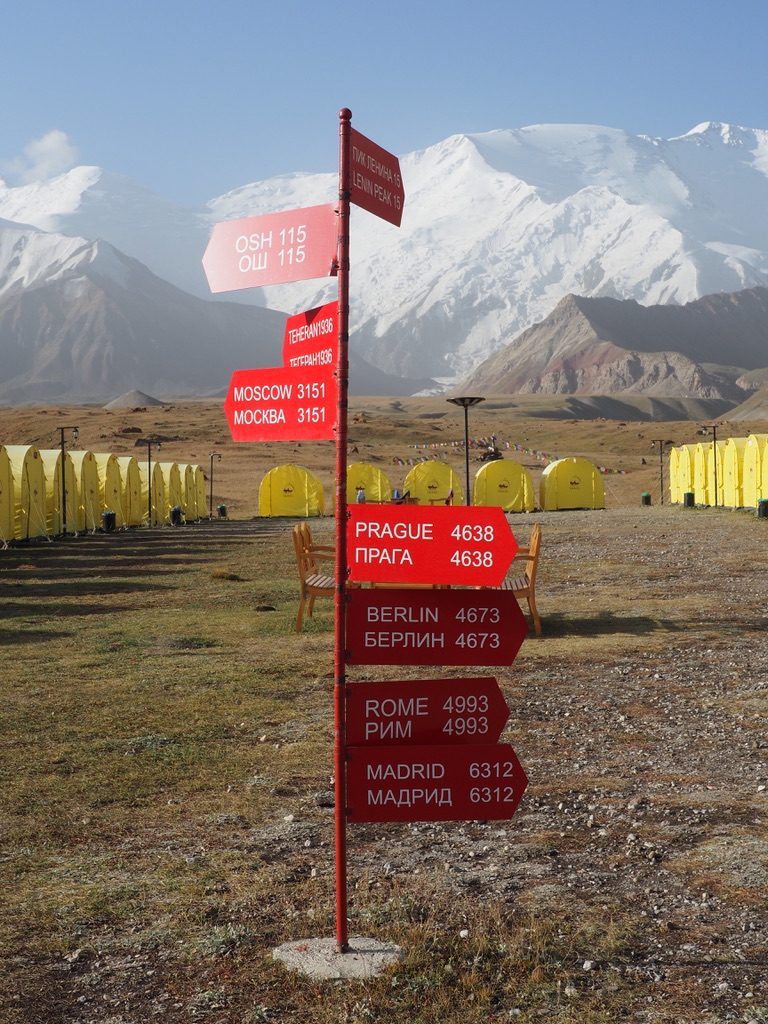 The next section was a long flat-ish walk until the foot of the traveller's pass. It was filled with marmots, enjoying the morning sunshine. A big off-road vehicle arrived just before us. It was a search crew. About a month ago a group of climbers had disappeared and the bodies still hadn't been found. It's such a hard journey, but Lenin Peak is only 15 km away, as the crow flies. On a rock wall we saw plaques of climbers. I'm not sure if they were celebrated for their victories or mourned because they died. From here the path went up steeply through a small canyon-like rocky landscape. There was even a little waterfall.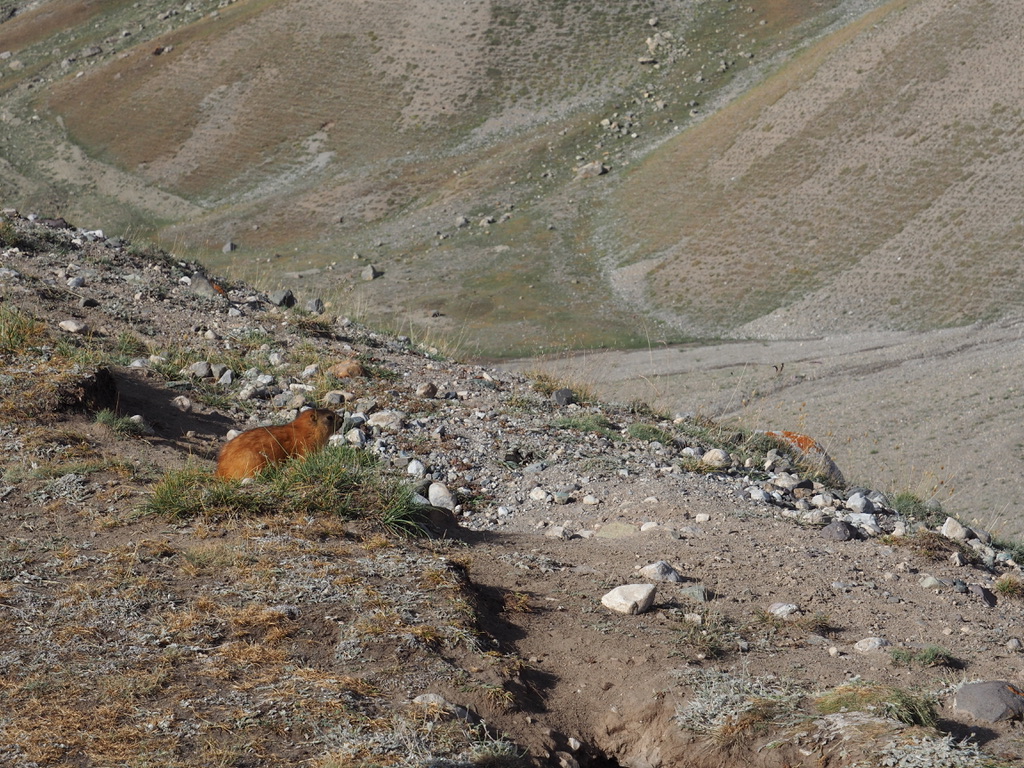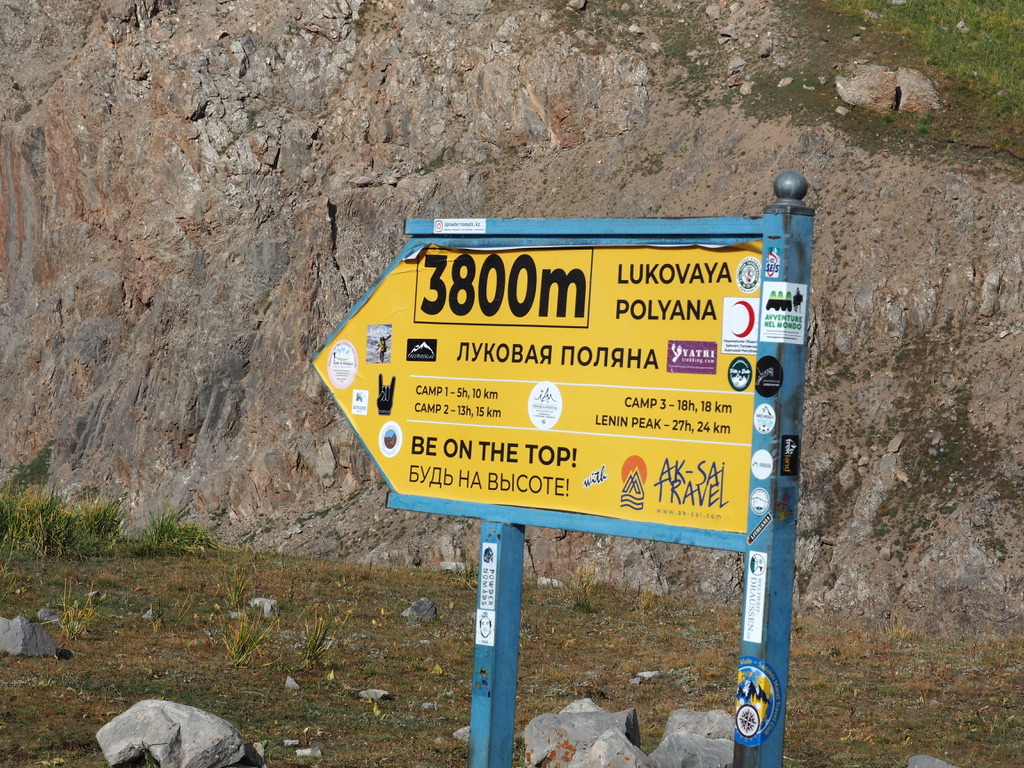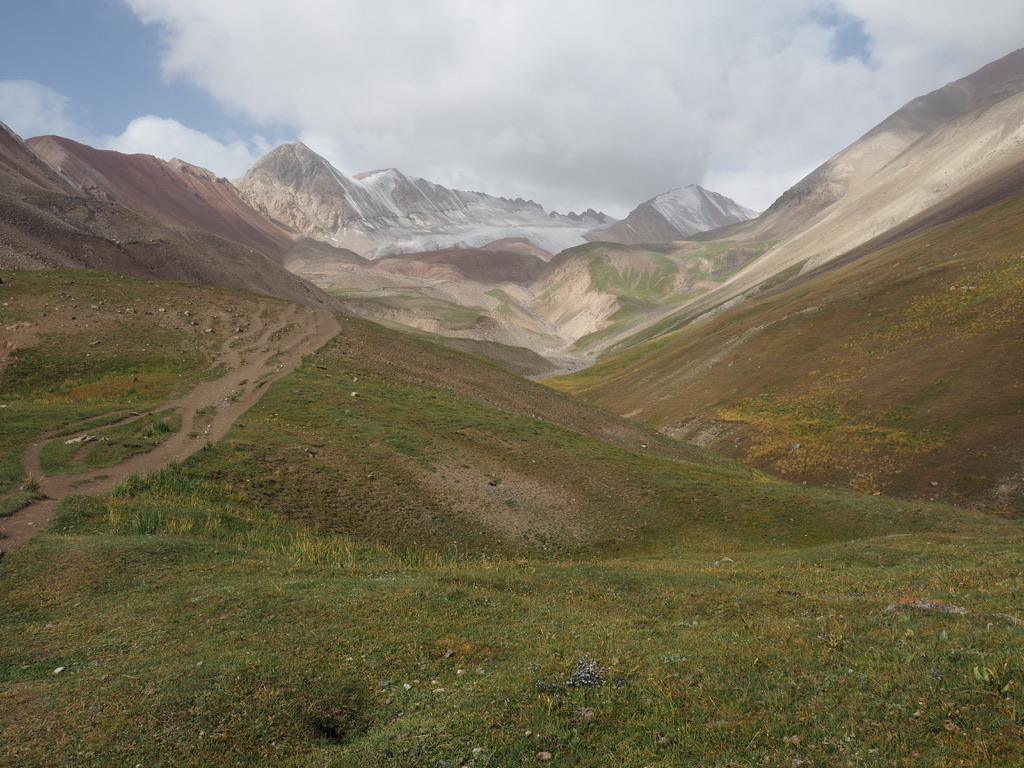 For a while we traversed across the hill to the foot of the final ascent to the pass. It seemed like once again we were at the gates of Mordor. We had a big, rocky, steep, slippery slope ahead of us. You could already see most of the trail zigzag up. Puffing, making tiny steps, I slowly got higher and higher. My tired muscles were dragging my body uphill. I kept thinking this was the last one and we'd go back to much lower altitudes soon. As I stared at my feet and all the rocks, I got dizzy. But looking up at the steep slope and the surrounding mountains only brought a weird sense of vertigo and of course awe.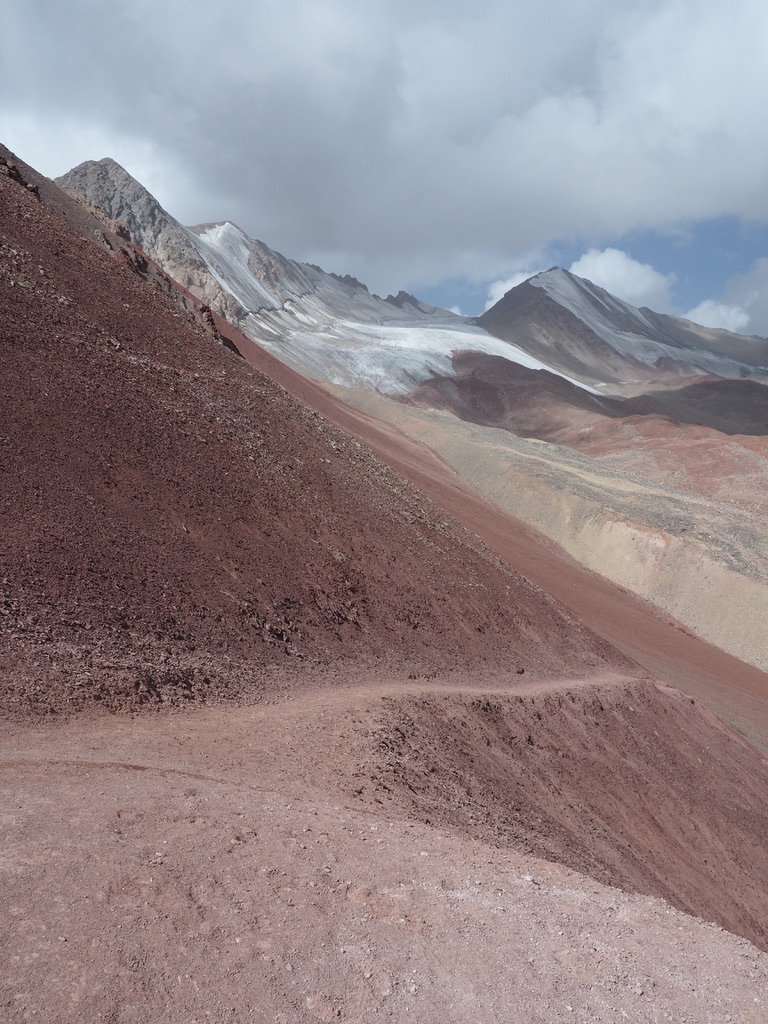 I was so happy to reach the pass and cheered on the people behind me. I had to sit on a rock for a few minutes before I could truly appreciate the view. The scenery was spectacular. There were so many colors of rock, combined with snow. Lenin Peak went in and out of the clouds. There was a long glacier coming down the mountain. The path went down again and around the corner to the right for camp 1. After a while, other people started coming up, some from behind us, some returning from one of the further camps.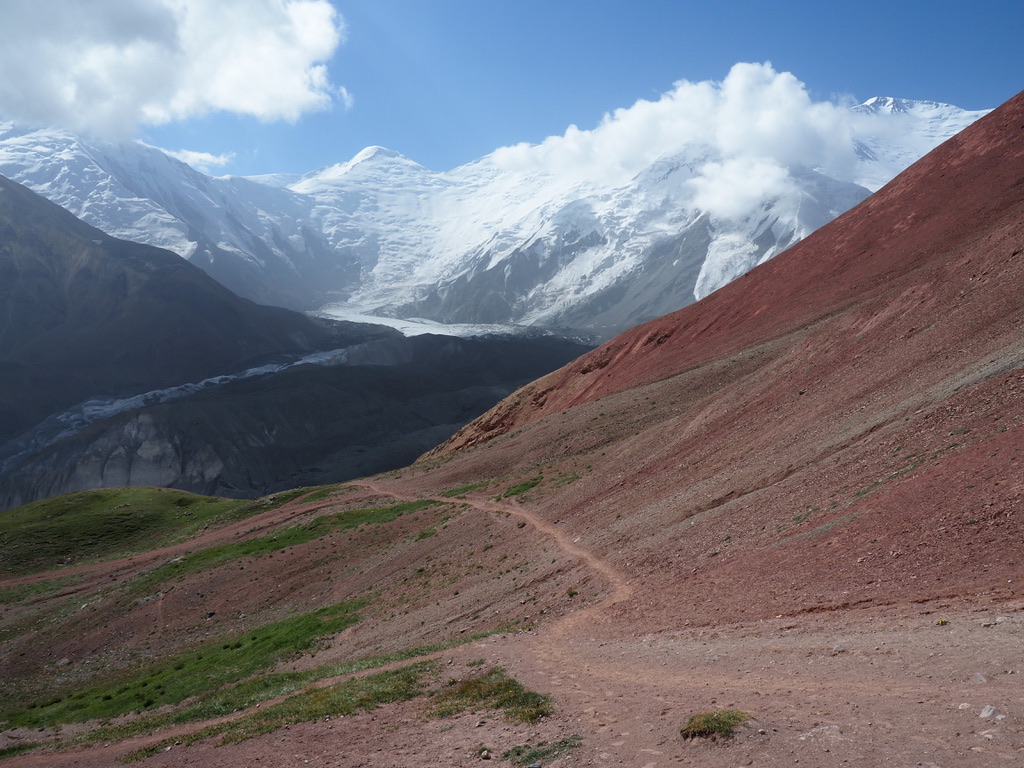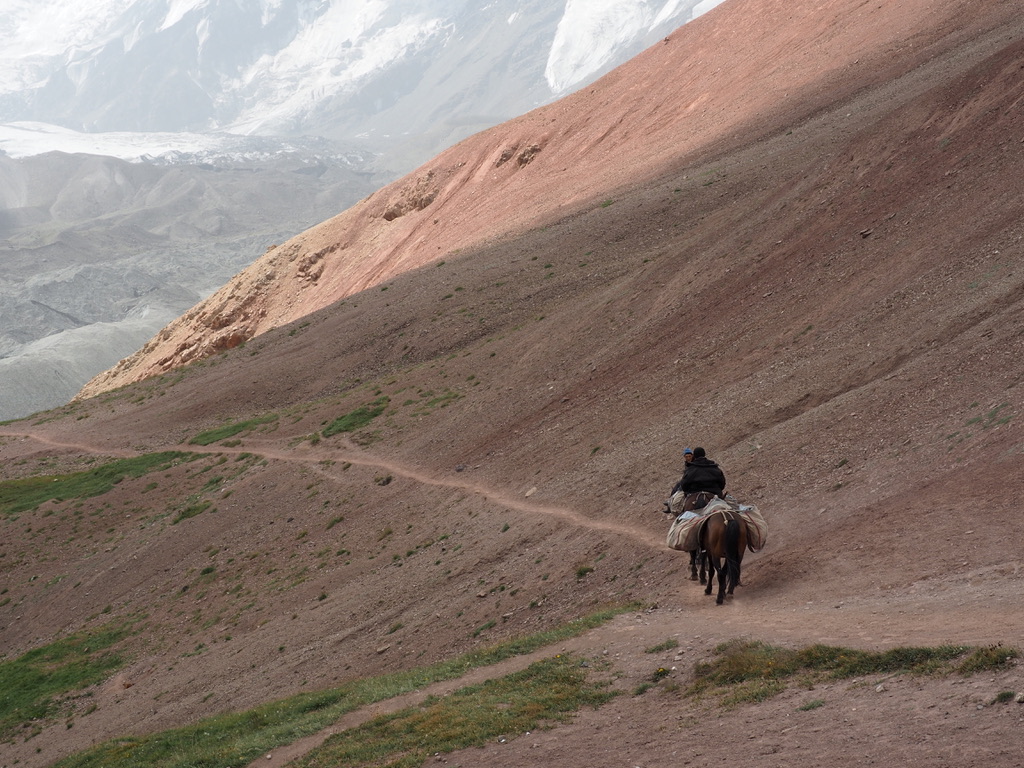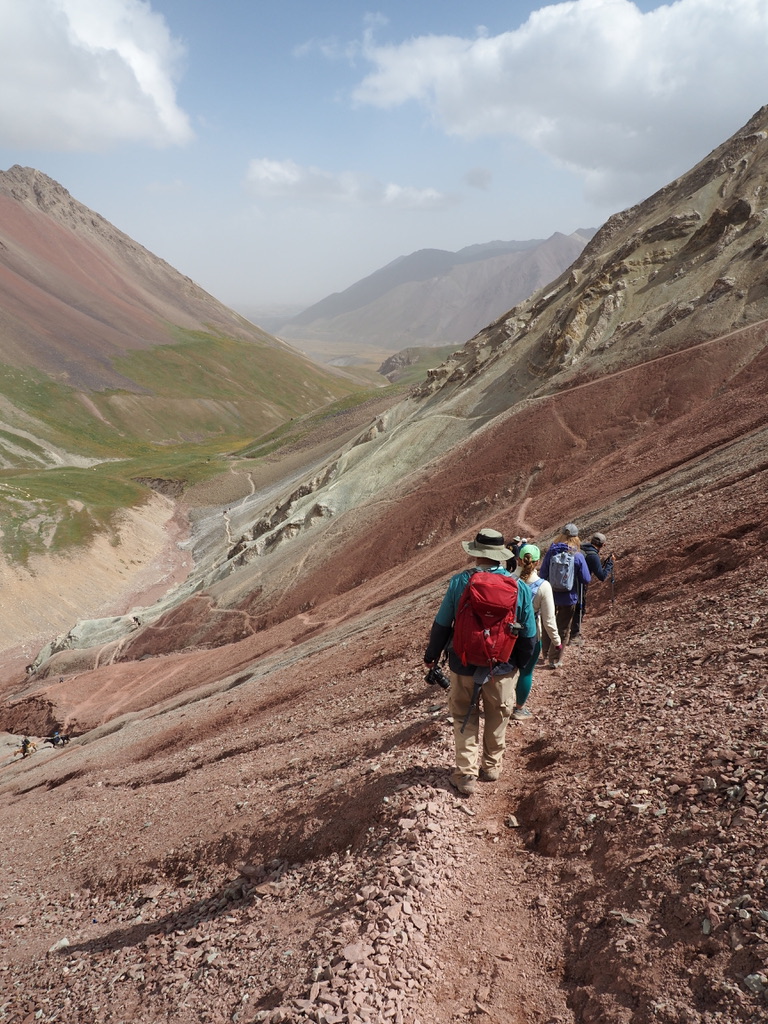 We had to return the same way. It was super steep and I was shuffling down. The proper climbers were so fast, like mountain goats, despite their big backpacks. I on the other hand, was scared with every slippery step and felt relieved to be on the somewhat flatter, less rocky part again. My legs were moving on autopilot and I was rushing to the end. It's bitter sweet. I loved the mountains, the simple life and the challenge. But my body needed rest and a proper bed. I happily gobbled up the lunch back at the yurt and got ready for the 5 hour drive back to Osh. The drive "home" was quiet. Everyone was resting and recovering.