After a night in Sary Mogul the adventure could begin. My hiking group was loaded into a tiny Lada and a space wagon and we drove out to the start of the hiking trail to the Sary Mogul Pass. For about an hour we drove deeper into the mountains, passing some camps with small buildings, yurts and cows. Behind us was a trail of dust. Calling it a dirt road would be an exaggeration. It was more like a dirt trail, with rocks sticking out and water to cross. I heard a rock scratch the bottom of the car. Then we stopped and waited for 2 guys with 3 horses. They would be responsible for carrying our big packs and taking care of anyone who might not feel well. I looked up at the impressive mountains surrounding us. Ok, let's do this.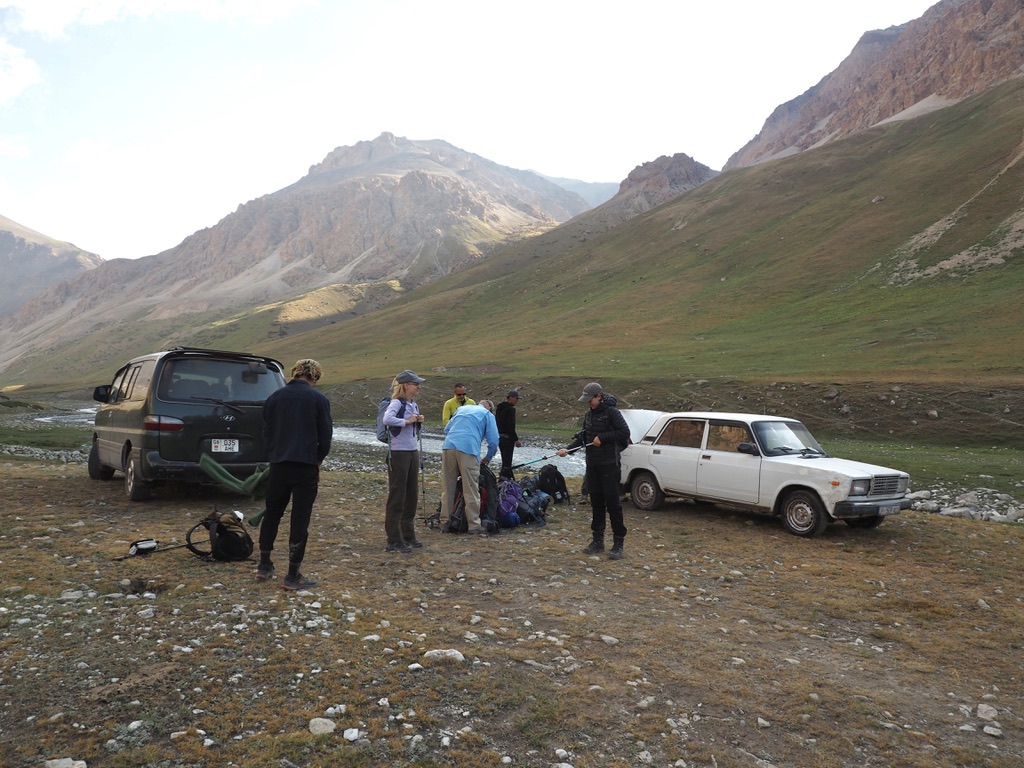 We started easy, with some gentle slopes, alternated with flat parts. But we had over 1000 vertical meters to ascend. Around the corner we entered a valley with a river. After walking over the small rocks for a bit, we had to cross it. It wasn't very wide at all, but it was flowing strongly. Due to the recent rain there were no rocks to cross it and our guide decided we would cross by horse, one by one. Maaaan, I would so much rather take my shoes off and walk! But we all made it, laughing at the awkwardness of it all. And then the real trekking started, going up and up and up. I slowly got into a rhythm, but we had frequent stops to let people catch up.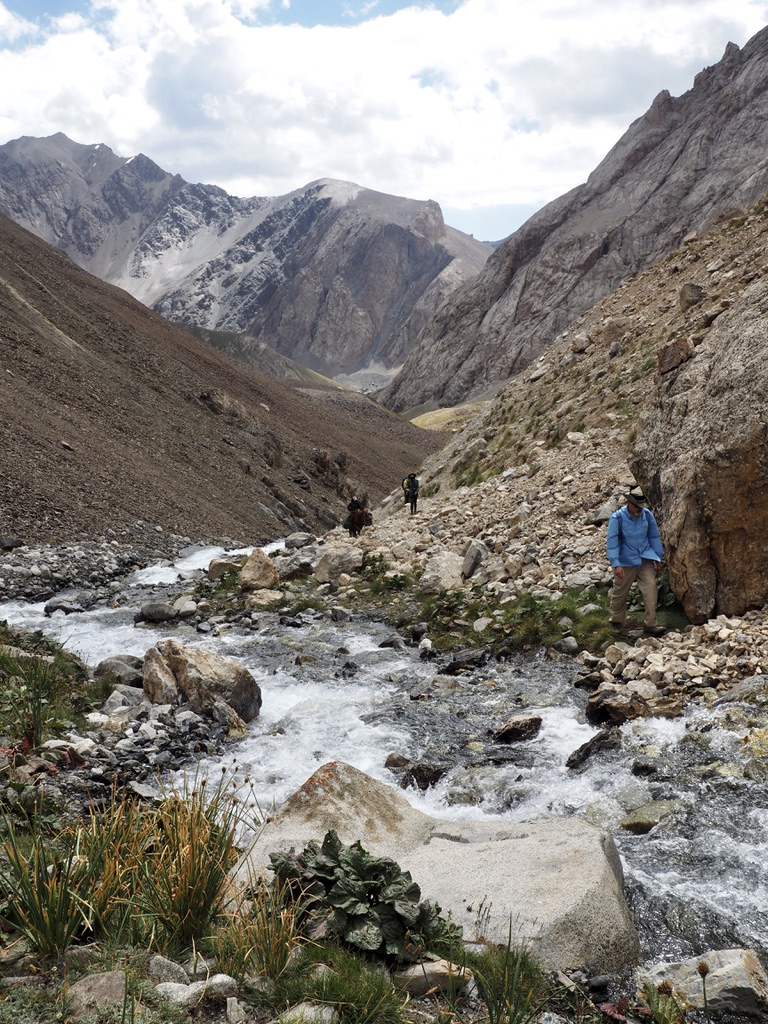 I got incredibly hungry at 11.30, but we had one more big ascent to get through. So I pulled out a muesli bar and, munching on it, I got to the top. It was already pretty hard by then, but we hadn't nearly reached the pass. Yet already we had an amazing view over a green valley, with a beautiful little river running through it. We sat in the grass by the river for our lunch and our guide provided a varied spread as a picnic buffet. We had to be careful not to eat too much. We could already see the steep road ahead.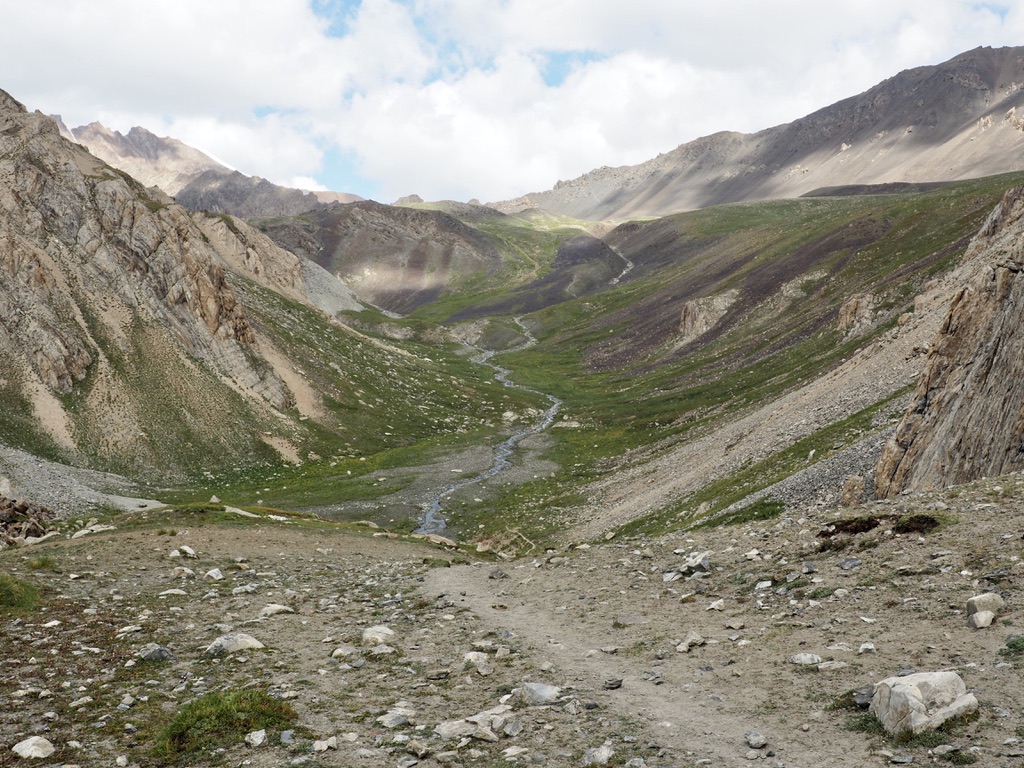 I zoned out, focused only on myself, making tiny steps in a comfortable pace, and quickly gained elevation. However, as things go in the mountains, every time you think you're nearly there, another steep slope gets revealed. The hardest part was the last bit to the pass. It was so steep and full of little rocks and scree. Add some thin air and you'd almost forget to look around. The higher we got, the more treasures we found in the landscape. There were some beautiful small lakes and a herd of yaks. There were glaciers draped over the grey mountains like shawls. And then there was the spiky top of Sary Mogul Pass at 4306 meters.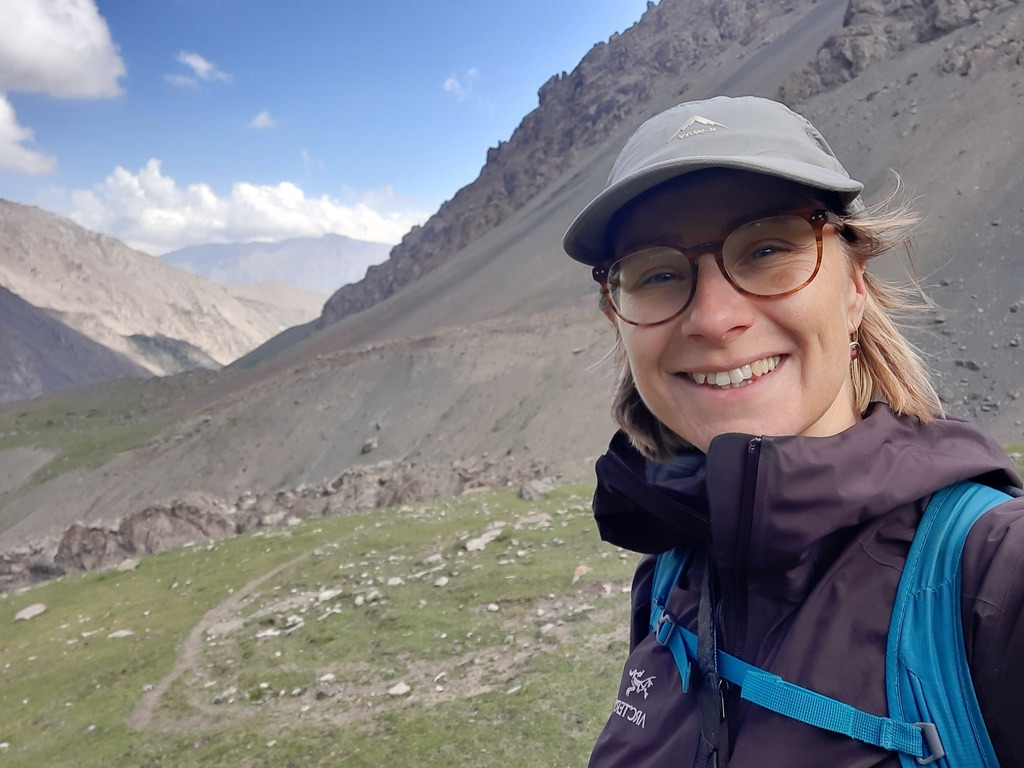 The wind was blowing and I quickly cooled down. I took all my layers from my tiny backpack and hid in my jacket. What a view! A reward for our efforts! I could appreciate the view, but I also saw the way down on the other side. It may have been even steeper and was slippery because of the scree and tiny stones. Even our horses didn't want to go down it! Neither did I. It was probably the scariest part of my entire hiking trip, as I felt my feet slipping away all the time. But I made it safe and sound and could enjoy the much gentler way down to our camp at an altitude of 3557 meters. It took us several more hours and another river crossing by horse. The landscape was green again and filled with rocks, like a giant had thrown around some marbles. After a long day we arrived at the camp and checked into our yurts. Tea was ready too! It was here that we met a French couple who would be sharing yurts, dinners and breakfasts with us almost every day. It was the start of our adventure in the Alay Mountains.