Because I can't get enough of skiing and I only have a limited amount of days off each year, I decided to try some remote work in the Alps. After finishing my holiday in Serre Chevalier, I took a bus, train and another bus to the smaller resort Les Orres. It's under 70 km away, just over an hour's drive, but it took me more than 4 hours because of all the waiting. But when my last bus arrived at Pramouton and I walked to my accommodation, I knew I'd made the right choice.
Skiing down a chunk of ice
I had a cute little apartment at the edge of the ski resort, near the Champs Lacas lift and parking. I had 2 full weekend days of skiing and 4 half days spread out throughout the week. For convenience I'd rented skis and a ski pass for the full 7 days and I could pick it all up the day before. On Sunday morning I was one of the first people up the lift. It was a beautiful, warm day. I was already sweating before I'd done any skiing. This was promising! Then, at the top of the lift… the slopes were pure ice! Sure, it was groomed, but I felt like baby Bambi. It didn't get any better. The whole mountain was a chunk of ice and the later it got, the more the ice got polished and the less grip there was. So I stuck to the really easy runs and tried to avoid crashing into other people.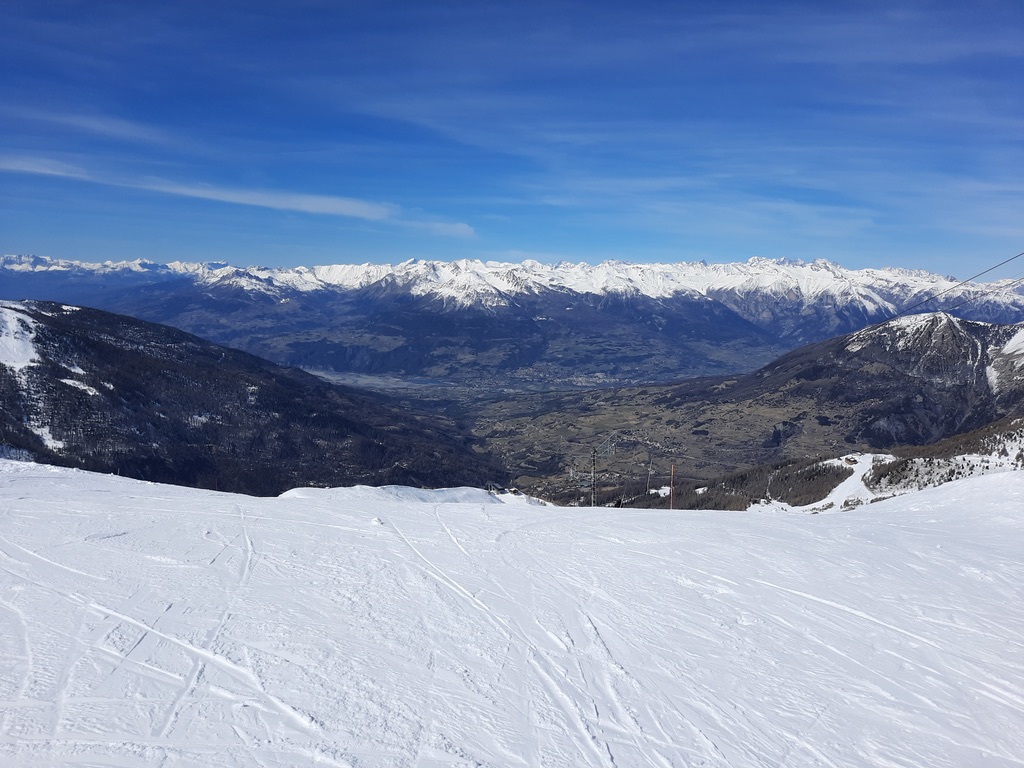 Enchanted by Grand Cabane
On day 2 I wasn't so excited going up in the chairlift. But I only had the morning and wanted to make the best of it. To my surprise the snow was completely different! No ice. Just soft, at times a bit slushy, snow. I couldn't believe it. I tried many runs that I hadn't dared to take the day before and really got into it. At some point I stood at the top of Pousterle lift and stared at a sign saying 'Grand Cabane'. The sign claimed it was extremely difficult and definitely not for beginners because of a very steep and narrow section at the bottom. I was confused. It was a red slope, not a black one. How hard could it really be? But why this threatening sign? After a moment of doubt I went for it. I dropped down onto an amazing slope that went down the back of the mountain. The scenery was incredible! It was such a playful run too. I loved it. Admittedly, the end got somewhat steeper and narrower, but it was manageable. Only after many skiers had come through, it got even narrower and slightly uncomfortable, but it was so worth it. This became my favorite run!
Then there was the work…
The only thing about working remotely is that you need good internet, and this was the one thing my accommodation didn't have. Out of the 11 or so networks they provided, 0 actually worked. So my first afternoon I worked from the game room. Every few minutes one of the shooting games would play a loud tune, trying to entice people to play the game. It was annoying, but at least I could work. On day 2 I found the room closed and I stressed out. I ended up buying more data for my phone and went through 20 Gb during the rest of the week!
Work and play
But the half days on the slopes were fabulous. I easily skied 40 km each day. A highlight was the Tuesday morning, when it had snowed and I was again one of the first people up the mountain. The guy next to me in the chairlift recommended a run called Myrtilles. It wasn't groomed and with the 10 cm of fresh snow it was just perfect! The resort was small enough to do most runs in a day. Every day I tried to find the best conditions, that day's favorite runs and I enjoyed the freedom of the mountains so much. It was really hard to leave. Luckily the clouds had drifted in for my departure, making it a little less painful.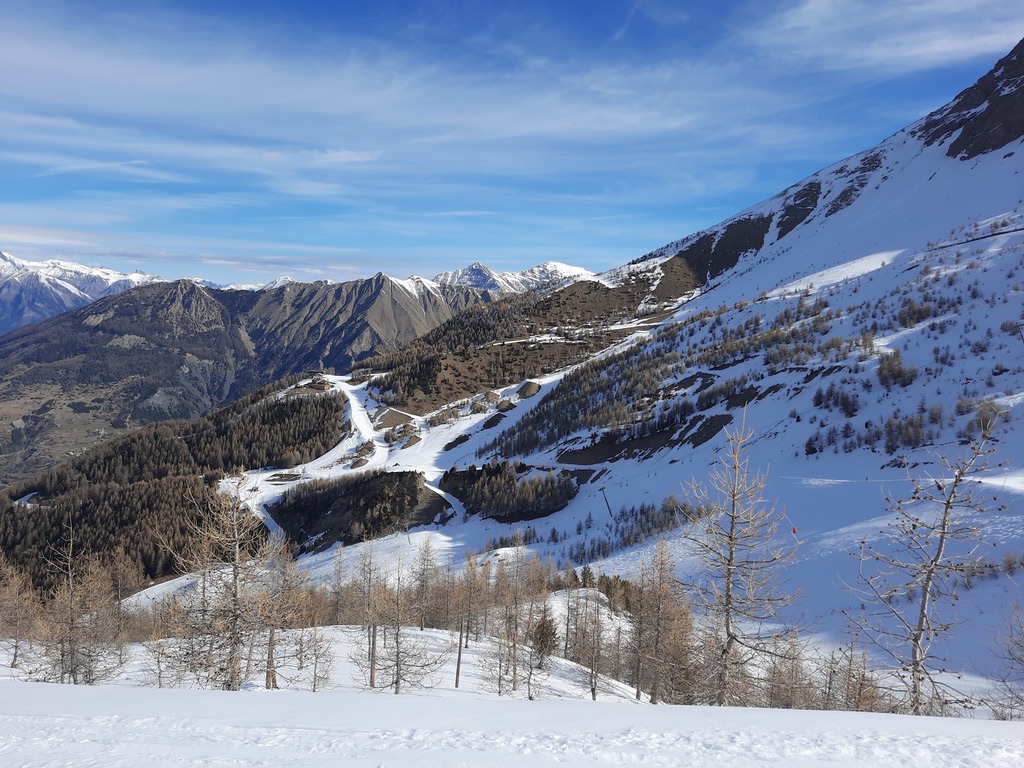 Finish in Marseille
For my last few days in France, I was staying in Marseille, mostly working. Marseille had already started spring, with lots of sun and warmth during the day. I didn't know what to expect of that city and I only had time for a few small walks. I discovered areas that could have been Paris, with fancy, grand apartments. Other areas were a bit more neglected, traditionally the poorer areas that now seemed to be getting taken over by hipsters and rich people. Then there was the small square where I felt like I was in Africa, with the hustle and bustle of a crowded market. There was an area full of graffiti, bars, cafés and quirky shops. And then there was the touristy old harbor. I can't say I've really explored Marseille, but I am intrigued by this place. Going to the Alps from here worked out great. I'm sure I'll be back.