For my second ski trip of the year I approached the Alps from the South of France, flying into Marseille and taking a train to Briançon. Coming up from the Mediterranean was bizarre. The coastal landscape with the typical Mediterranean pine did not fit into my skiing holiday, but slowly the pines made way for the mountains. I'd booked the UCPA Serre Chevalier and was excited to find it right at the edge of the slopes. On a walk through the village La Salle-les-Alpes I enjoyed the warmth of the sun on my face, the quaint little houses, the fresh water fountains and the mountain air. The next day I hit the slopes. Oh, how I'd missed this! The freedom of this simple life. The excitement about snowfall. The views…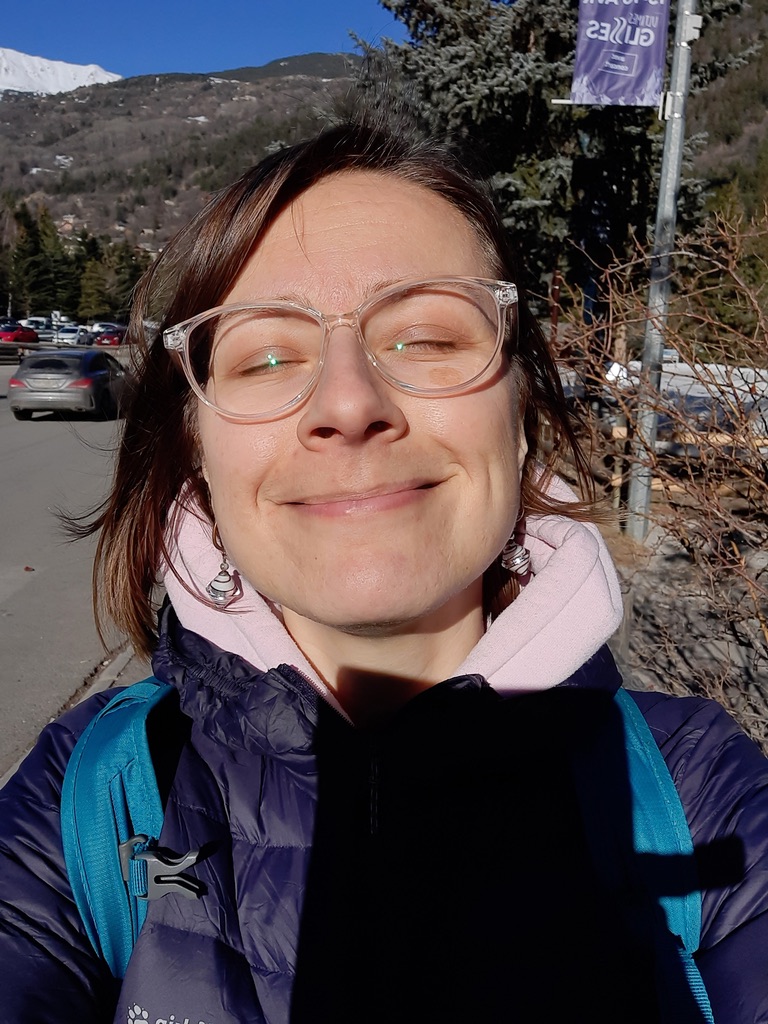 For my first ski week I mostly joined my ski group, led by our instructor Jean-Ber, who loved to talk about… well everything! We spent a lot of time chatting, rather than skiing, but he did take us to some amazing corners of Serre Chevalier. It was the week of everything! Starting with sunshine, followed by fresh snow and more sunshine, and more snow. I couldn't have wished for anything better. So Jean-Ber challenged us with new terrain each day. We raced each other in the border cross. I tried my first ever (baby)box in the park. We skied through a natural half pipe. And after much asking, raising some sighs from the group, I got my wish of skiing bumps.
All the people in my group were French, so mostly there was a lot of chatter in French, but I connected with some of them in English as well. We were supposed to have one more person, who didn't show up on the first day. Two days late she arrived from Paris. She had told the instructors that she was definitely 'Expert Plus Plus' and was way too good for our group. So I met her as my roommate and heard my instructor make fun of her, but didn't get to ski with her at all.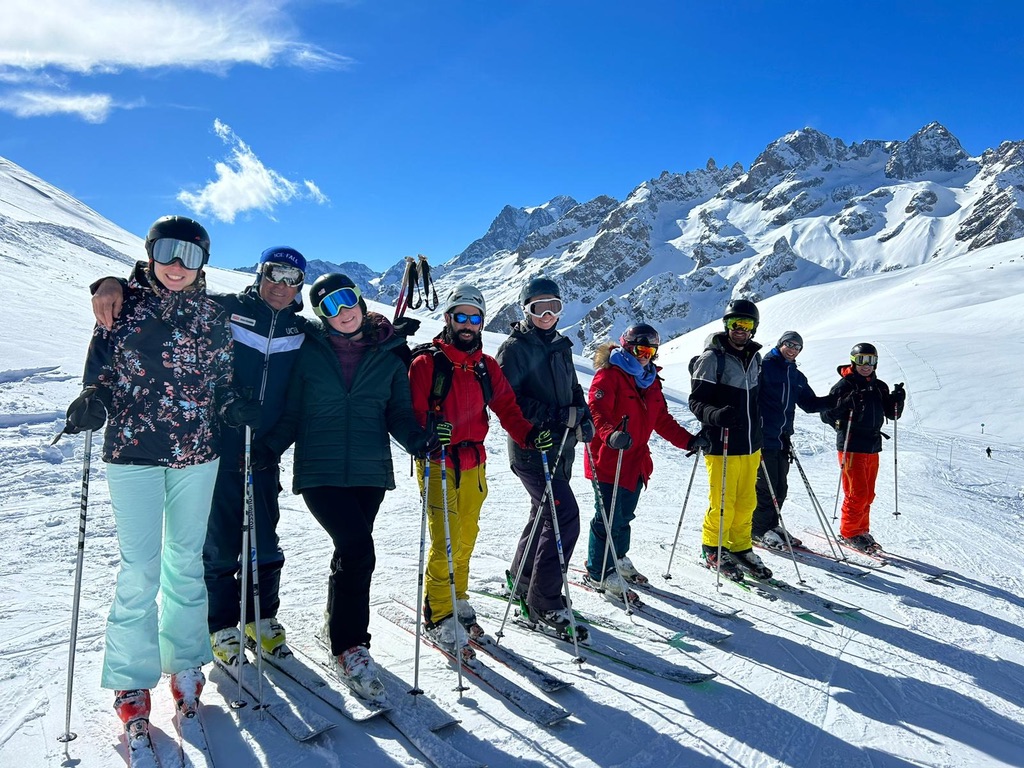 To be fair, not everyone in the group was very adventurous, some rather sticking to the regular slopes. But luckily our instructor was flexible and took those of us who wanted to, to more interesting terrain. On the powder day we took a very gentle off piste track through the forest. The snow was pristine, without any tracks in front of us. But lower on the mountain it got really heavy, so we continued on a black run. "Andrea, do you want to go 80 km/h? Follow me!" Well, I tried to carve down behind Jean-Ber, but I hit a maximum of 61 km/h. It still felt pretty fast to me!
On another day we took the long run down into Briançon. "Do you want to go off piste?" Jean-Ber enthusiastically asked, looking at me. "Yeah!" I shouted together with some of the boys. Well! It started off alright, with plenty of space and some fresh snow. But then we ended up on a much narrower, steeper black run with obstacles and bumps called Couloir. I saw people in front of me fall into the soft snow one by one. This was promising… I stayed back until there was some space again and then slowly made my way down without falling. I have definitely gotten better at this.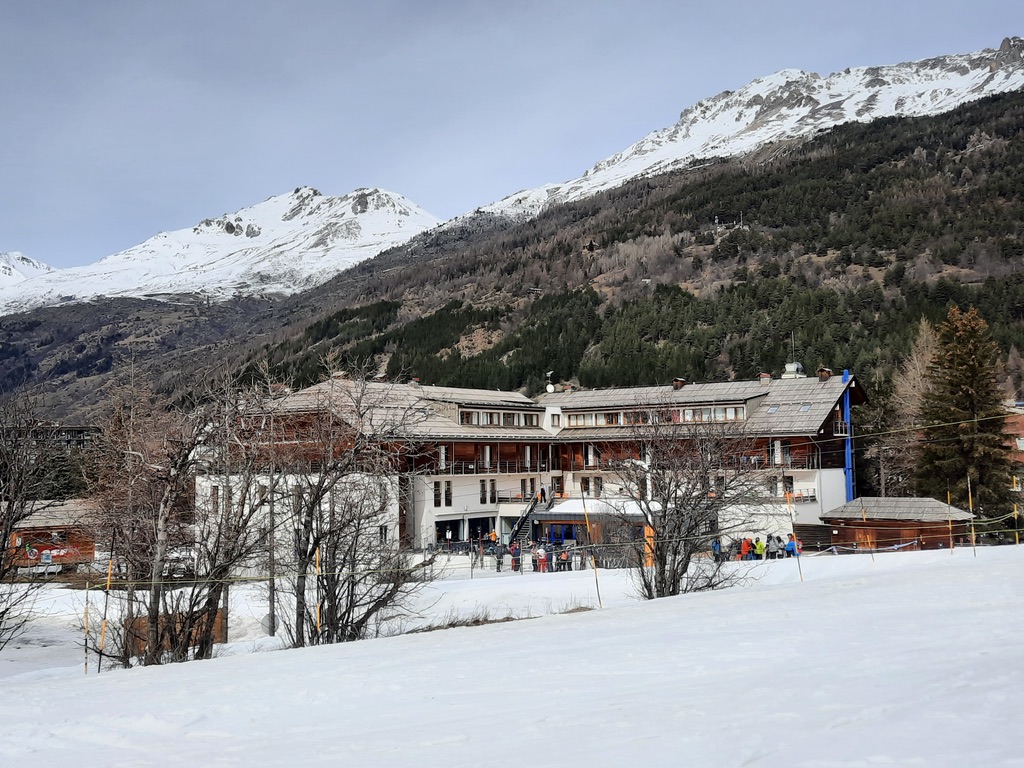 On my departure day I looked outside of the window and saw nothing but white. It had snowed about 25cm overnight. I only had about an hour, but I couldn't resist. Because of all the snow the lift opened 30 minutes late, so I got to do one run of Casse du Boeuf. I was one of the first people up there and tried to push myself through the heavy snow. It was soooo intense! "Wooohoo Andrea", I heard from the chairlift above. Andrea was struggling! I made some large turns and had to stop and catch my breath. On one of my breaks I saw miss 'Expert Plus Plus' coming down. She struggled at least as much as I did. I chuckled and continued. Man, I was proud of myself. I skied a lot this week, not shying away from more difficult terrain. And now I voluntarily went down a black run in deep, heavy powder. Ten years of skiing and I've come such a long way! I just wish I got to do it more often…