During my 11 days hiking in the Alay mountains I mostly stayed in yurts. I had no idea what to expect, so it was an amazing experience! A bunch of families throughout the mountains make some extra money by putting up yurts for hikers. It may not be as popular for local families to live in yurts as it used to be, but it's still part of the traditional semi-nomadic life. In the area around Ak Tor Pass I at least had the idea the families were staying in the Jailoo (summer pasture). Deeper in the Alay mountains the yurts were purely set up for the tourists, so they don't have to camp.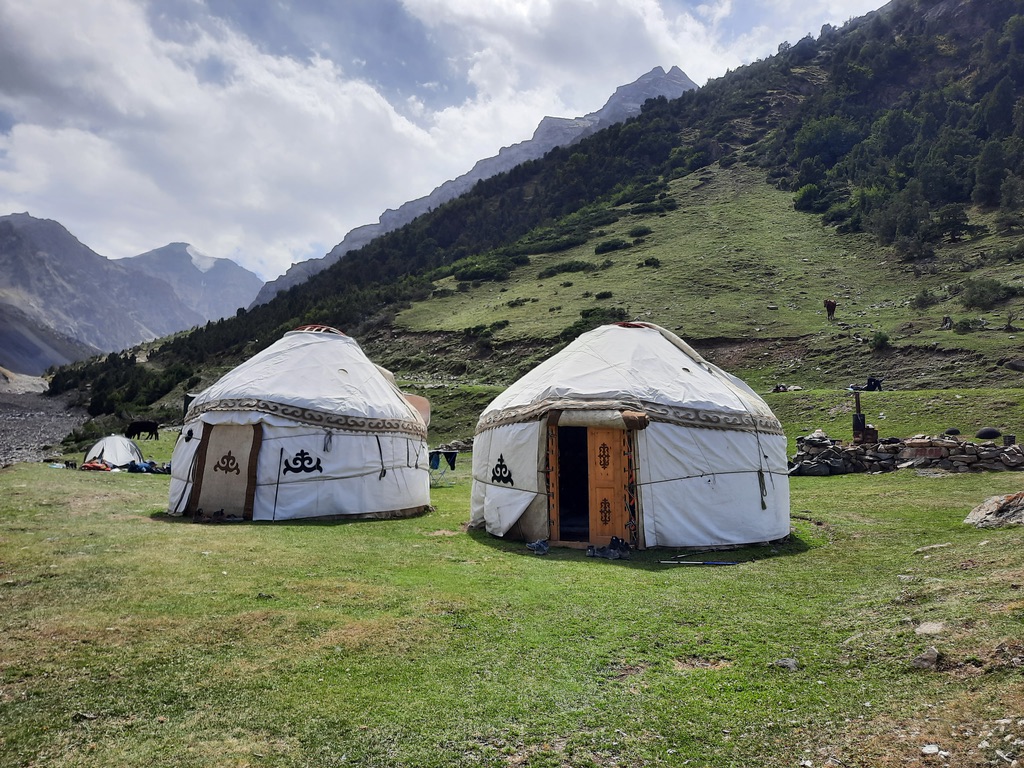 After walking all day it was always a treat to arrive at the yurt camp. All of them were different, but they had one thing in common: there would soon be a table filled with sweets, nuts, bread, fruits and tea. Inside the main yurt stands a low table surrounded by long, colorful mattresses. It may not be the most comfortable for our untrained bodies to sit on the ground after hiking, but hospitality and the choice of snacks was always amazing. Sometimes we were lucky and the yurt had a stove to keep us warm in the cool evenings.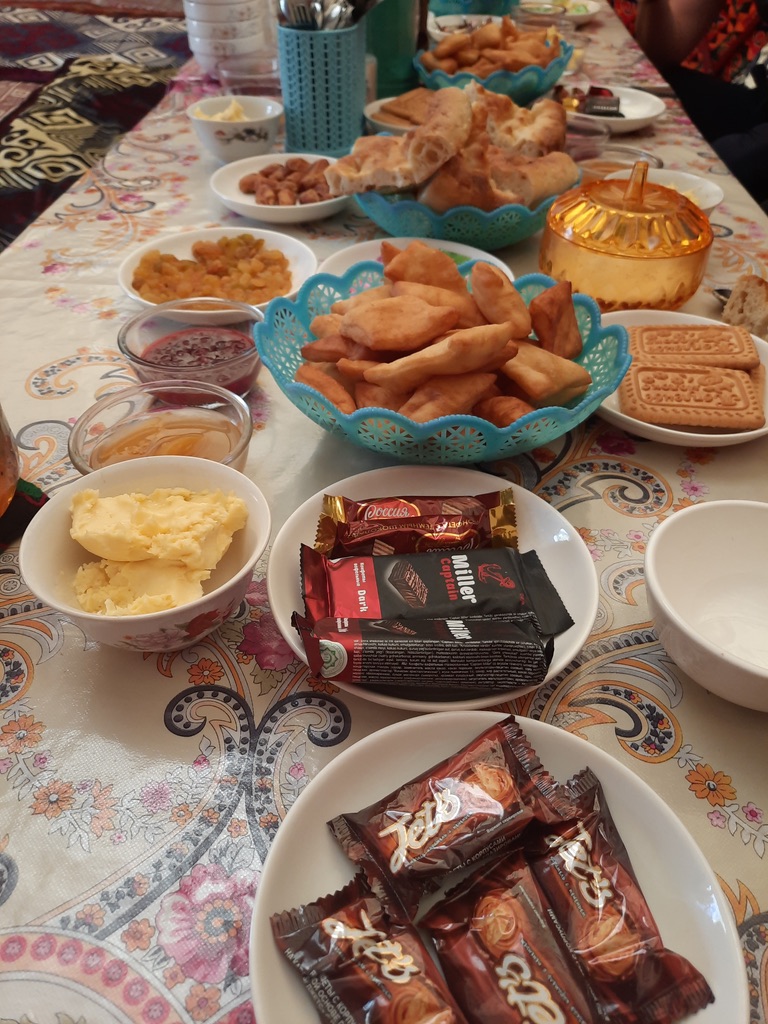 Despite it being August, nights in the yurt could be freezing! During the day, the opening at the top of the yurt is mostly kept open. At night a big piece of cloth is pulled over to cover it. The temperature in the mountains drops considerably and most of the time the table in the yurt is pushed aside and the family comes in to stack some of the thin mattresses to form small beds. During my stay I'd had a yurt to myself, but also shared one with 5 others. Because it's basically a big tent, it doesn't provide a lot of warmth. At night I would wear layers of thermals, fleece, my down jacket and at times also my hat and scarf. The sleeping bag I'd brought was not enough to keep me cosy warm, so I was happy every time there were spare blankets!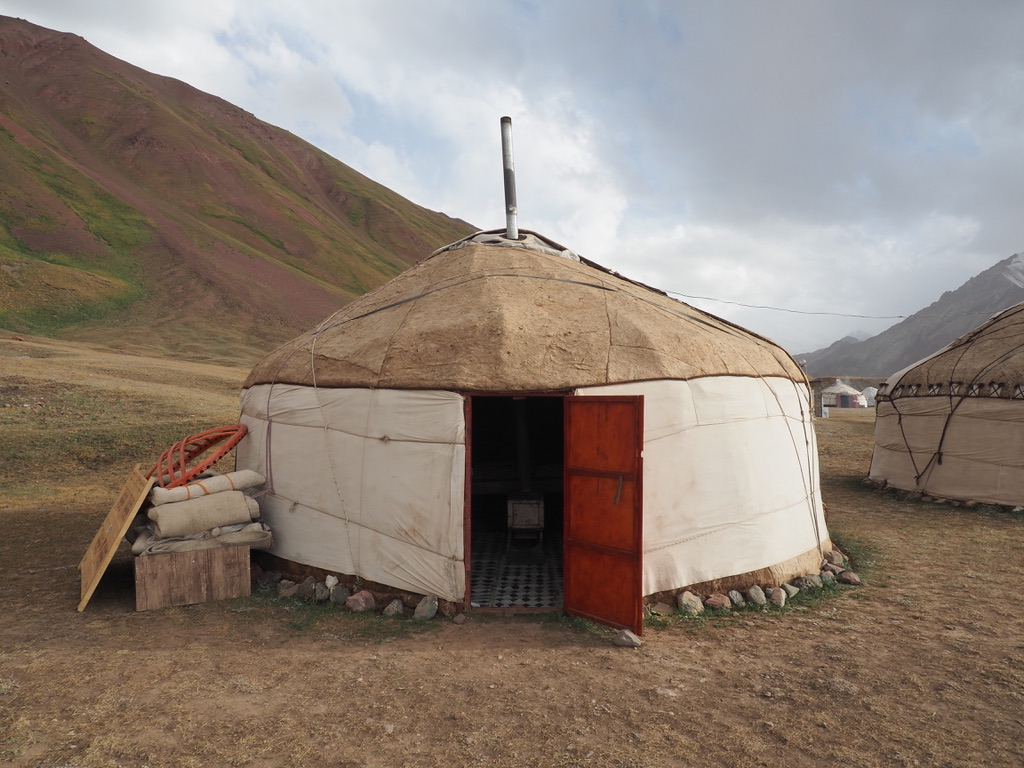 At one of the camps we got to see how they prepared some local delicacies. The lady on the left is making Kurut. She's stirring a big bowl on yoghurt. They dry the yoghurt, with lots of salt added, and roll it into small balls. I had had the displeasure of tasting one earlier and struggled to eat the whole thing. It was sooo salty and I could barely resist spitting it out. So when a bag of them came out for us to try, I politely declined. In the cities you'll see people selling a drink that is also based on these balls, but with sparkling water added. I preferred the local bread, made in a big round pan. Especially when it was still warm, it was a delicious addition to tea time. But bread was eaten at any time of the day. We were served it with breakfast, lunch, dinner and any tea breaks.
The nice thing about staying in yurts was that I got to try local food. In the yurts it was cooked by the families and therefore different from the food in the restaurants. I had eaten different kinds of manti. Some were like big square pancakes, whereas others were much smaller dumplings, mostly filled with potato. Another popular meal is plov, a rice dish with meat, carrots and onion. In some places we also got amazing soups, made with whatever vegetables were available. It was always a surprise what kind of food would show up and if soup was the main meal or merely a starter. But in general, there was no need to be hungry!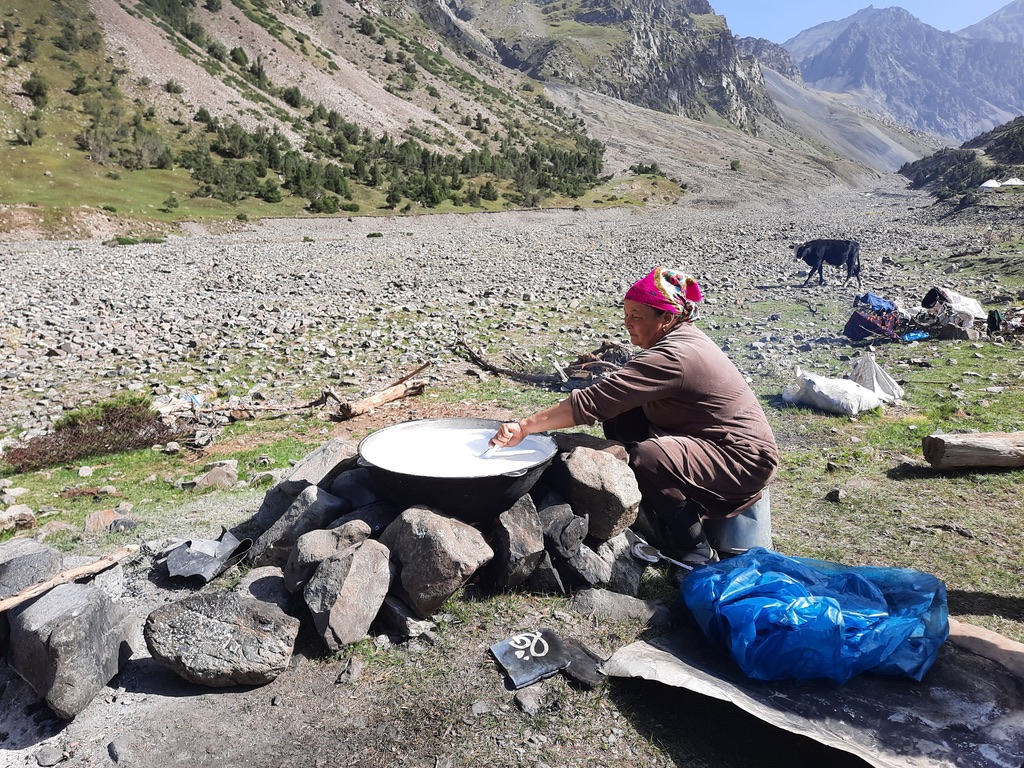 The yurt camps mostly had two or three yurts, with an exceptionally big camp at Tulpar Kol, where we even had beds inside the yurt! But where they were pretty much just accessible on foot or horse, the camps were small. Streams provided running water to wash our faces and brush our teeth. Toilet facilities varied from squat toilet to shaky western toilets with broken seats. Some flushed, some didn't. Honestly, in this setting the squat ones were way more hygienic! I tried to wash up before dark and then crawl into my sleeping bag. Oftentimes I woke up cold at around 4am, needing to go to the toilet, but I would try to ignore it because it was so cold! But when I did get the courage to get out of my sleeping bag, I was rewarded with a sky full of stars.
Staying in yurts was certainly a unique experience. It makes trekking a lot easier when you don't have to carry all the camping gear and it can provide a glimpse into the lives of the locals and their traditions. As long as you bring a thick winter sleeping bag and plenty of layers, it's a great way to experience Kyrgyzstan!