Sometimes you've just got to admit that you need rest. I hate wasting days off though. I have so few of them and they seem to disappear so fast. Probably because by the time spring comes around, I've already spent more than 2 weeks on skiing. I always like to spend my time off on exploring new places and doing things I love. I know a person needs rest, but I can't waste my precious time off on a staycation. For the last 2 years, a lot of my free hours were spend on my master degree and although the finish line is approaching, it's not nearly close enough. So I made a compromise. I spent my last week off in the sun, working on my thesis and getting some rest.
I scrolled through pages of holiday packages, looking for a good deal, to the point that planning my holiday gave me stress. A package meant I didn't have to worry about how to get away from the airport, or where to eat. I could focus all my effort on my thesis and well… on trying to relax. I finally decided on a deal at a resort about 5 km from the center of Kuşadası in Turkey. The October weather was perfect. In the mornings I mostly sat on my balcony, sheltered from the wind, working on my laptop in the sun. When it got warmer, I went down the many stairs to reach the sea and jumped into the crystal clear water. For the first time in a long time I read a book that was just for entertainment.
I noticed I was exhausted and honestly, I still am. I'd been stressing myself out about writing my thesis, reading more of the literature but still going around in circles, not quite knowing which direction to turn. Communication with my supervisor confused me and I was disappointed I wouldn't make my self-imposed goal of finishing by the end of the year. On Monday I finally had a call to clarify an email that had been driving me nuts. I felt much better afterwards and started writing again, trying to allow myself to not be perfect.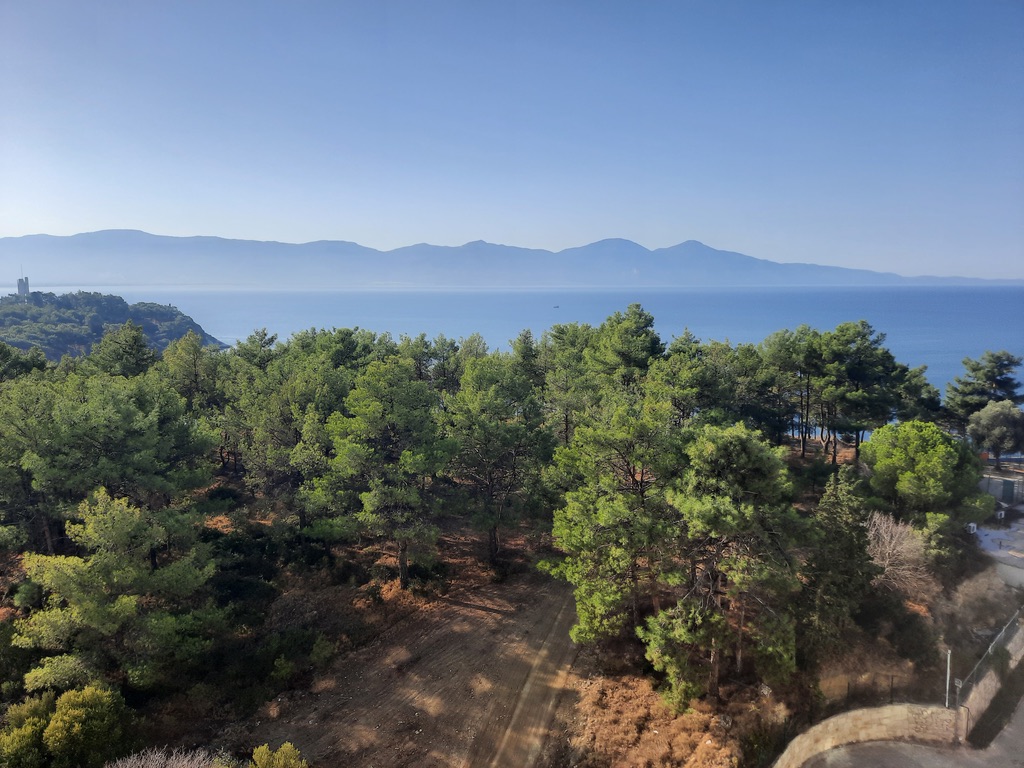 One day I walked towards Ladies Beach. It was early and the shops and restaurants were still opening up. The beach only had some lonely parasols. I continued towards the old castle. There's now a park with some information signs and good views. As I left, a big tour group came in and other people were coming towards boats that would take them on trips around the area. At the edge of the center it got a bit busier. Four big cruise ships lay in the harbor. Yet, the main shopping street was still quiet. Only after I'd gotten a haircut the city came to life. The shopkeepers at the bazar tried to lure me in with special offers. Taxi drivers tried to take me to other places. One guy shouted "are you Turkish?", as if he would say that in English if he really believed I was. It was the typical tourist place. I tried to imagine what it must be like in the summer months.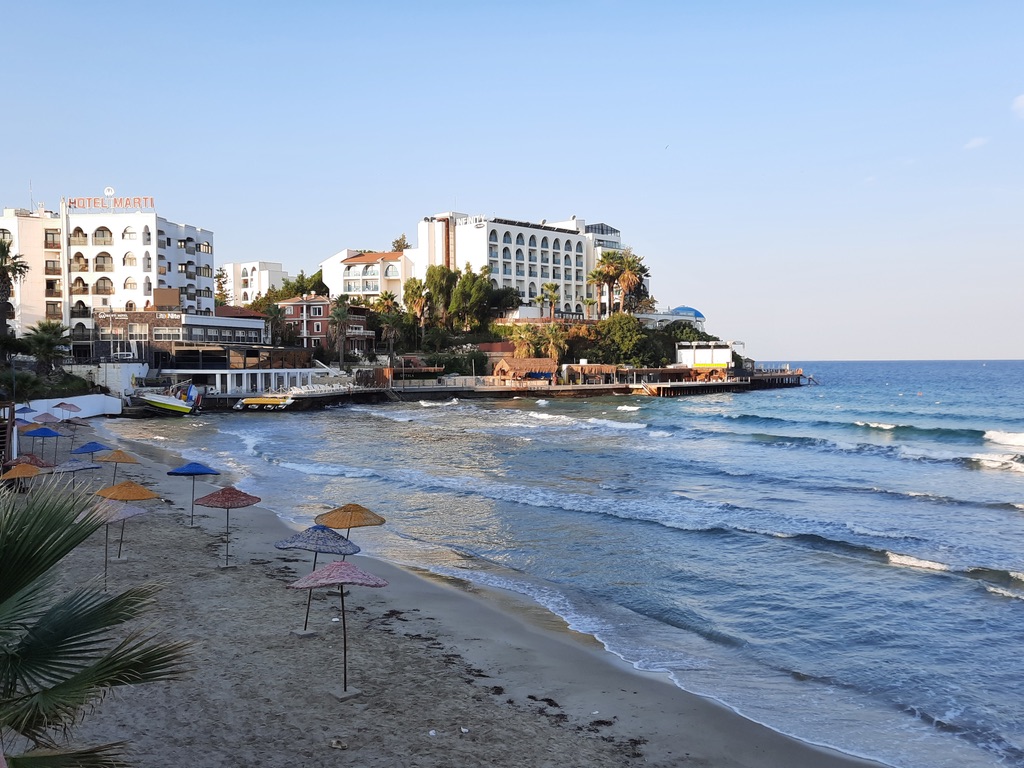 Kuşadası had a very pleasant vibe and I enjoyed walking around the center and seafront. I also got the chance to walk along the coast in the south side, along Long Beach. But most of my time was spent in the resort, a completely new experience for me. The first few days were pretty quiet, with the average age at the resort seemingly above 60, but it seemed like more and more people and especially families arrived. I watched people piling up food from the buffet, the cats trying to steal it and parents trying to restrain their kids. This was like a blown up, in some ways fancier version of the UCPAs where I'd been staying for skiing. But really, the concept is the same. It was quite bizarre, but at the same time the food was good, the pool gorgeous, the water slides fun and the sea simply mesmerizing. The Turquoise colors of the Aegean Sea stole my heart.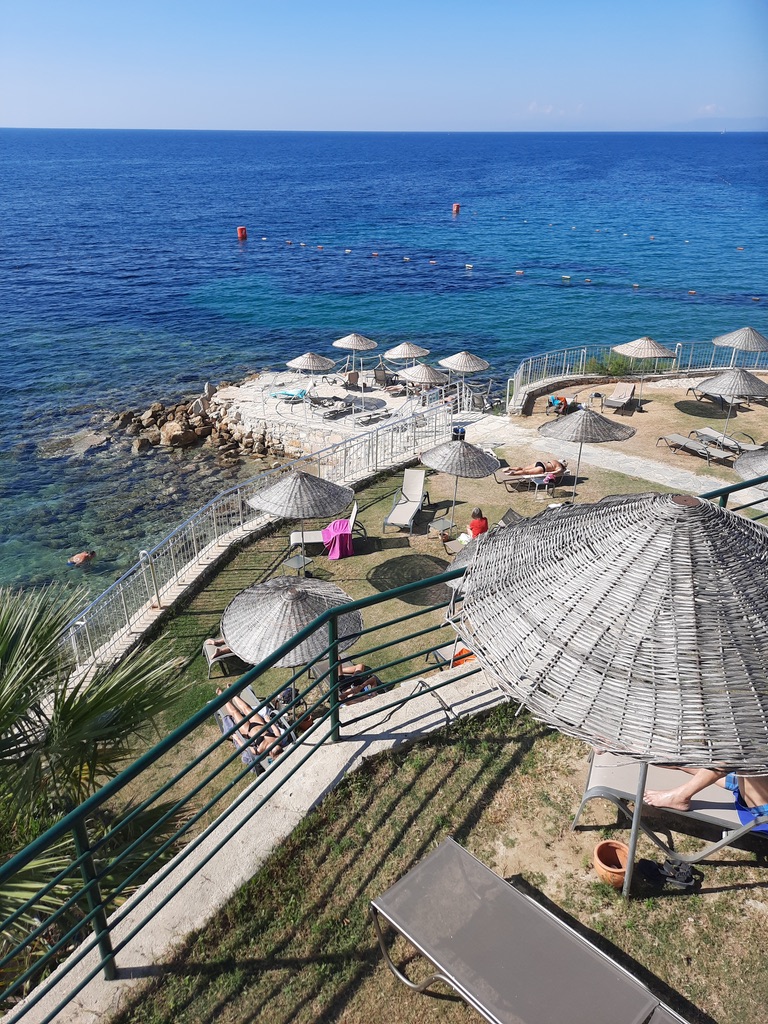 I managed to make progress with my thesis. I'm nearly ready to move to the next stage and start actually doing my research. To my surprise it wasn't hard not to explore too much this past week. I just stocked up on vitamin D and found some time to unwind. I was the odd one out at my resort, but I didn't care and I just did what I needed. I ignored the looks. I enjoyed the köfte, dolma, menemen and the many cakes, even though I sat alone at the table. I loved getting a fresh beach towel and bottle of water each day. I found a sun bed in a quiet corner and stared out at the view. I loved not having to worry about money while in the resort. I was fully focused on clearing my head and making time to write. Only a cheeky cat distracted me when she stole my sun bed while I was on it!