At 6.30AM I walked through the empty streets of Yerevan on a Sunday morning. There were only a few joggers and the odd cyclist. Everyone else was still asleep. But today I had plans: a group hiking trip to the Dilijan National Park. When I reached the meeting point I was surprised to see a big bus waiting for all of us. We were hiking with 50-ish people!
As we drove north we picked up a few people on the highway until the bus was pretty much full. I had the idea that everyone was Armenian. Everyone seemed to understand each other apart from me. After catching a glimpse of lake Sevan we stopped at a huge rest area, with supermarket, petrol station, restaurant and café. It appeared to be the must-do stop on the way north. When we left the bus drove through a small town and up the hill to another small town: Semyonovka, the starting point of our hike.
After some explanations in Armenian we started our trek. I just assumed it wasn't too important since it didn't get translated. The first part of the hike led us through dry, yellow-brown fields, over a dirt road. It seemed like the yellow-brown hills stretched out till the end of the horizon, like there was nothing else. Our main guide was just walking with a map on his phone and I think we took a wrong turn at first, because we suddenly took a hard right and walked down the hill right through the field. From there we ended up on another dirt road that followed a very small stream on our right for a while.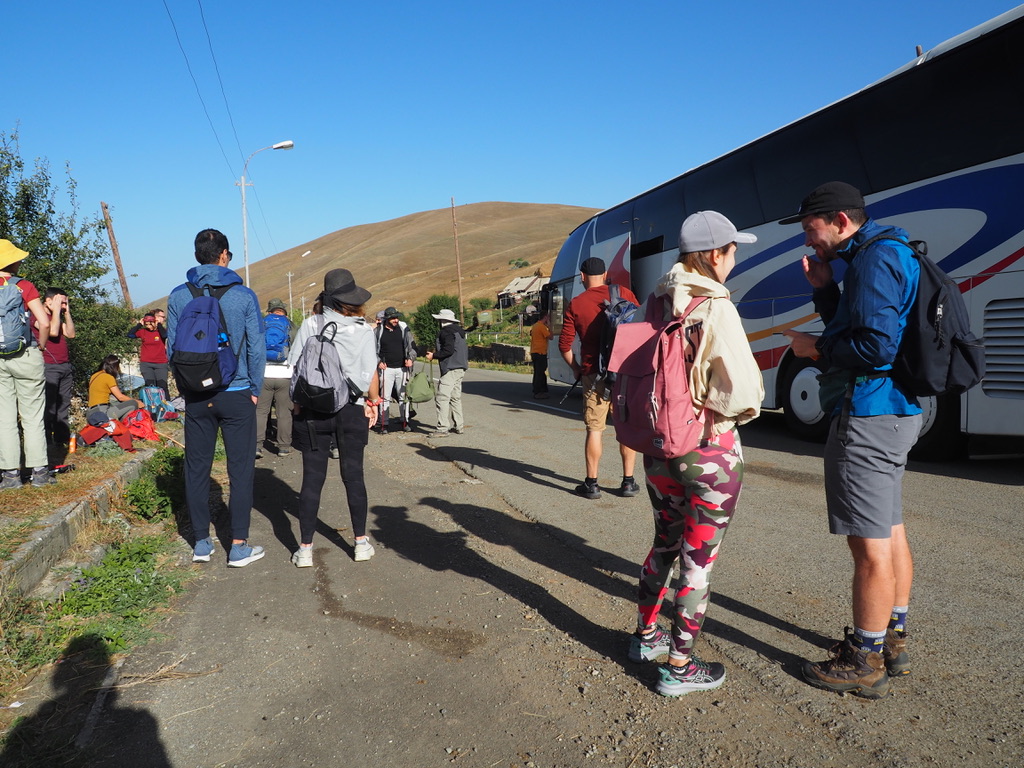 Although the landscape looked very dry, we had to cross some huge puddles and a couple of streams along our way. The start of the hike was very hot since there were no trees or anything that provided shade. I was trying to ration my water, I had brought 2L, but luckily the road led to a farm where we could fill up our bottles. I happily drank some more before I refilled with cold water from the constantly running pipe. It seemed like there was only one man on the property. But the farm was even mentioned on my map and later I found out there was a cattle station with Angus cows. But the cows were out grazing somewhere else in the mountains.
As we hiked further into the mountains the endless yellow-brown made way for more green. There were small pieces of forest, which made me so grateful for the shade. We used these opportunities for breaks, and we had quite a few of them. It seemed like the pace was slowing as the day continued. But that's the thing walking with a group, you'll have to adjust. During the breaks I slowly got to know the others. As it turned out, not everyone was from Armenia. There were a bunch of people with Armenian heritage, who were visiting or living in Armenia now. There were also a bunch of Russian people who kind of blent in because they could communicate with the Armenians. But a lot of them started to speak to me in English, so I learned a bit about them.
After lunch we got to a spot with an incredible view over the valley, the mountains covered with trees and more peaks in the distance. After a wide corner we got another amazing view of the mountains ahead on the other side. In front of us were over a dozen horses, the young ones running around. A few cows looked at us, unimpressed, chewing on some grass. From here it wasn't far until Gosh lake, a pretty lake in the middle of the forest, with the trees reflecting in the water. There were a few more people around, some jumping in the water for a swim, another chopping wood for a barbecue and then there were some jeeps trying to get around the challenging terrain.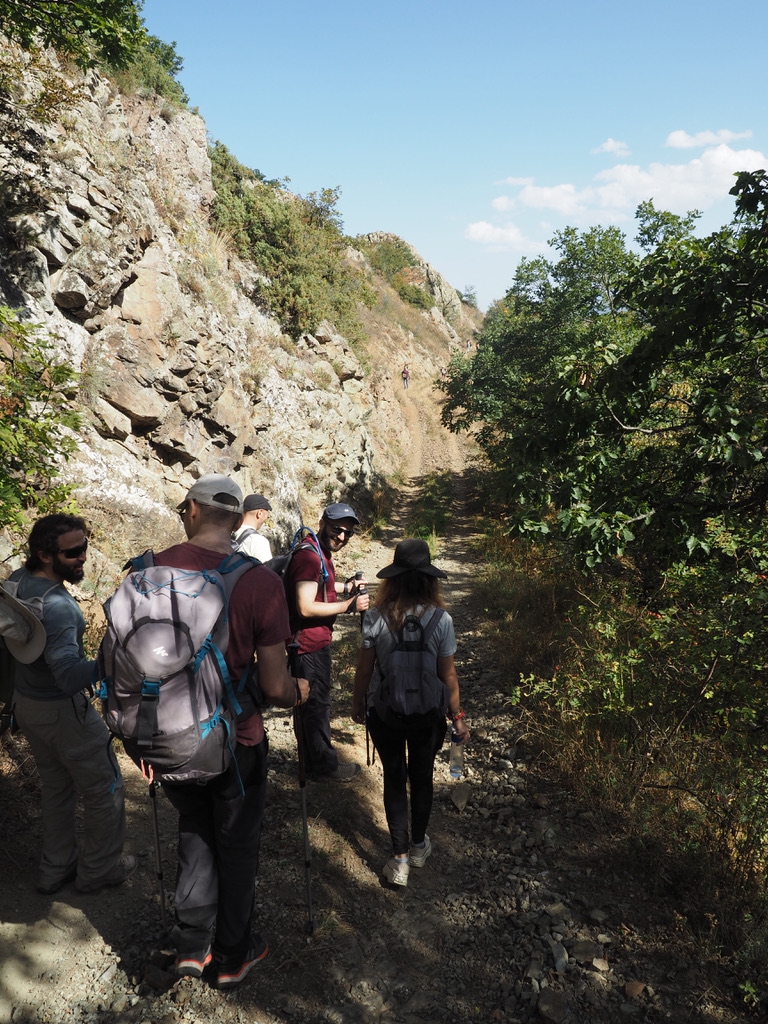 The last part of the hike was fairly steeply downhill over a very tracked out jeep road. We were in the forest, so there weren't really any views. This part was the least interesting in my opinion, but it also felt like the home-stretch. It had been a long day and I was ready to head back to the capital. The drive out from Gosh town through the mountains was actually super scenic, but I struggled keeping my eyes open. Of course we had the mandatory stop for dinner at the same place where we'd stopped on the way in. Goulash has never tasted so good! At around 10PM I got back 'home'. It had been a loooong day, but I was glad I good a good hike in on my trip!