Food and places I'll never forget
My Lonely Planet of Georgia, Armenia and Azerbaijan had been sitting on my shelf for a few years. During the pandemic I'd traveled, but only within Europe, staying close to home. Although Europe has so many amazing places to explore, I wanted something different. Something that would feel truly foreign. A place I didn't know anything about. When I bought the Lonely Planet, I'd thought I may visit Georgia, or Azerbaijan. I have no idea why, but I ended up planning a visit to Armenia. It was the best decision!
My trip wasn't without glitches. My airline decided to cancel the flight and put me on a flight the next day. A minor detail they forgot to tell me about! Luckily I tried checking in online, got confused and found out about the canceled flight on the phone. The lady sitting next to me on the flight actually arrived at the airport and found out the flight wasn't going. I guess I wasn't the only one they had not informed. Then, a few days into my trip the conflict on Armenia's border with Azerbaijan reignited, this time more intensely than it had been over the last years. I adjusted my route and, although I still had a great trip, the conflicts in the world gave this trip a different flavor.
Yerevan
As I arrived in the middle of the night, I didn't know what to think, but the next day I quickly fell in love with Armenia's capital. Yerevan has an eclectic mix of styles and vibes, like time travel without having to give up all the modern comforts. There is the old part of town, Kond, on top of a hill, with small, simple houses. There are perfectly manicured parks with dozens of fountains. There are remnants of Soviet times, like the metro stations, the Mother Armenia statue, the Northern bus station or the many apartment blocks. And there there are the grand buildings made of red and black tuff stone, such as the impressive museum at Republic square or the pink looking Northern Avenue. Just walking around the city is giant treasure hunt.
Where to stay & eat
I loved the Kantar hostel so much that I came back every time again. It's a hotel and hostel, so you can take advantage of a freshly cooked breakfast buffet every day. There's a big kitchen and even an co-working space so the hostel was popular with longer term guests like digital nomads. The location close to English park was also excellent. I pretty much walked everywhere I needed to be. I met such great people and often sat in the big kitchen at night, sharing a cup of tea and some stories with the other travelers.
Yerevan also has a bunch of great places for food. Close to the hostel is Elie's Lahmajun, run by a Syryan family. Not too far in the other direction, on the edge of the Kond district is The Kond House. As you climb the stairs you pass through different spaces, like a bar, all the way up to the top terrace, where you can eat some interesting dishes. It's more like a pub atmosphere, with some options to share food as well. I had an ostrich steak with grilled vegetables and a delicious cocktail. Unexpected, but tasty. I also loved Sherep restaurant, although it was hard to get a spot without a reservation. But they have delicious traditional food. My pumpkin was brought to me and then cut into a flower at the table. When it opened it revealed a stuffing of meat and vegetables. Other options are Black Angus, for burgers, and Al Darwandy Falafel. If you're out near the genocide memorial, Akori is a great place for local food with the cutest garden. There are little pavilions everywhere where you can sit with a small group. My meal was a package of lavash bread, filled with veggies and beef.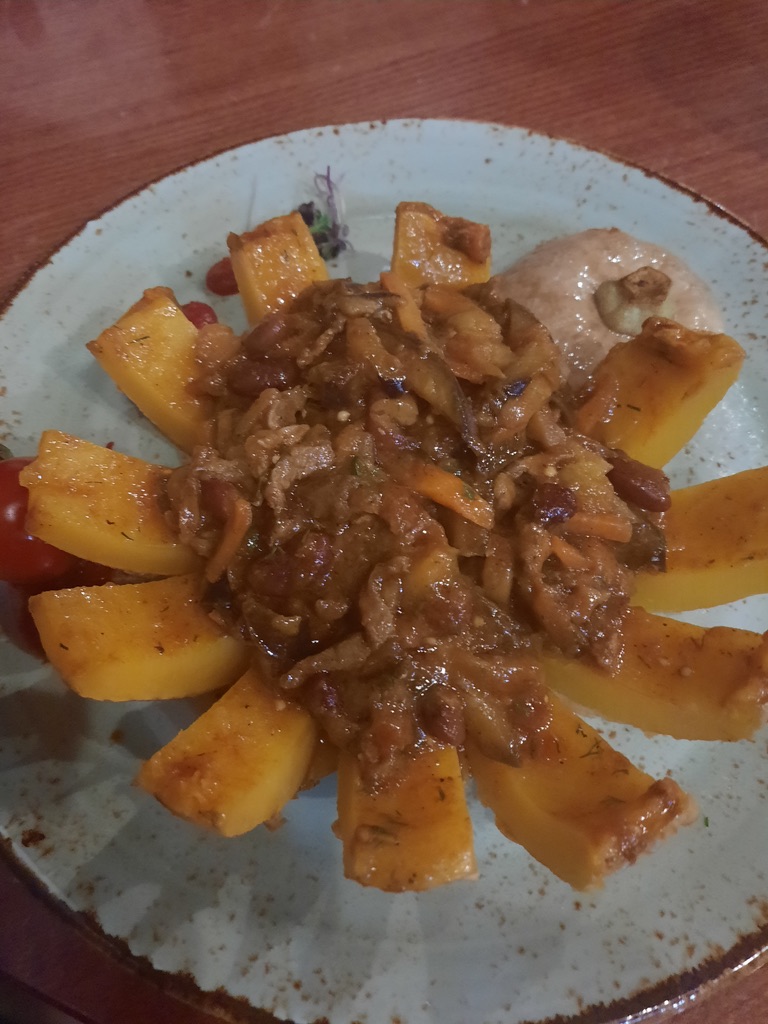 Gyumri
Gyumri wasn't even on my radar. I'd read about it, but hadn't given it much thought. And even when I was on the train to the North East, I wasn't too excited about it. This was merely a diversion from the plan, because fighting had broken out around the border which made going to the famous Tatev monastery temporarily not advisable. I'd already booked my homestay in Goris, but the evening before I left, a worried hostel employee came to warn me not to go. There had been shots fired in the city of Goris. I called the homestay and was heartbroken when the lady told me "We were so excited you were coming. I am baking you a cake". But what was I to do?
So the city of black tuff, Gyumri, was a very unexpected little gem. Even though it's the 2nd biggest city of Armenia, it's much smaller than Yerevan and feels very much like a provincial city, or a really big town. Apart from exploring the center, I walked all the way to the edge of town, where an old Soviet fountain stands like a king's crown, abandoned, unpolished and waiting for new days of glory. Gyumri got a fair bit of tourist groups that drove from the capital for a day, but there were few independent tourists. A shame, because only by spending some time there can you make time for the hidden art basements, cafés and museums. The old inner city is a museum in itself, with fabulous rain pipes as the cherry on the cake.
Where to stay & eat
I had a great base in Gyumri at the Loft hostel. There were 2 big, spacious dorms with super comfortable beds. It wasn't busy at all, so all the socializing I did was with the girl running the place. She was super kind and made me feel at home. The hostel is also an anticafé, meaning people can work from there and just use the kitchen to make their own coffee or tea. In Gyumri I also had some delicious local food. The best was at Gwoog Gastrohouse. I ordered dolma with grape leaves and spas, a yoghurt soup that was decorated with purple flowers. On another day I tried traditional Chanach, beef tail soup, at Florence. It was delicious, but pretty small and not so cheap. In Gyumri I also enjoyed the cafés, like Herbs and Honey, where I even bought some fresh tea leaves. And I had fresh bread for breakfast at Aregak Bakery.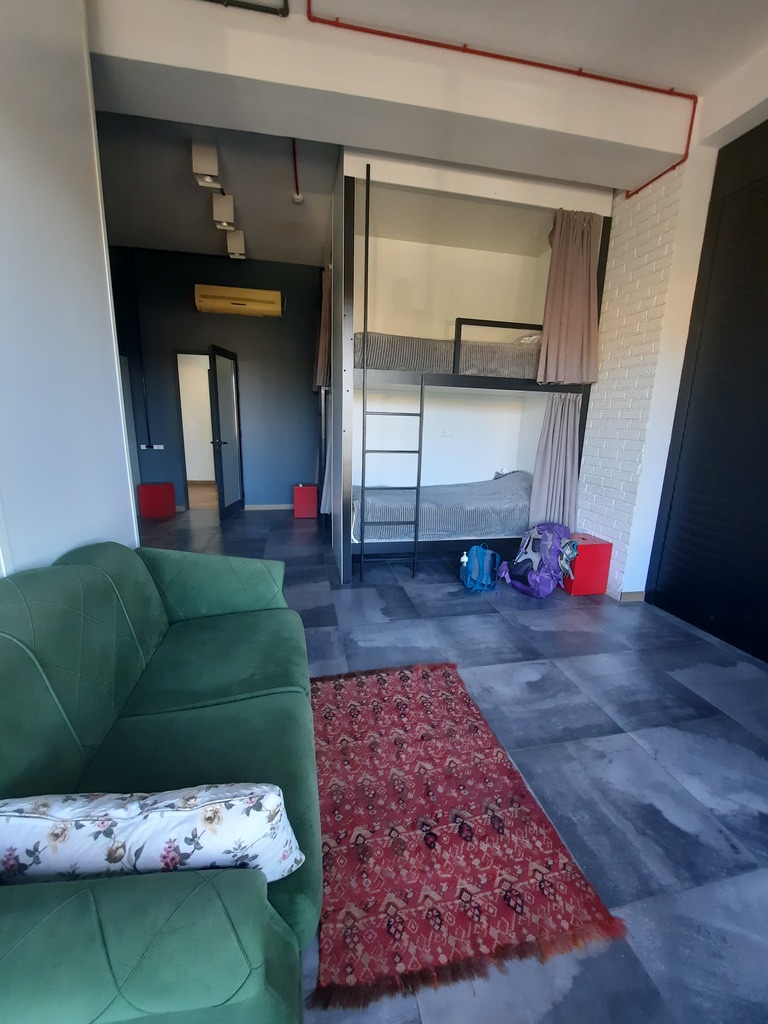 Dilijan National Park & lake Sevan
To balance out the city sightseeing I spent some time in the nature around Dilijan and Sevan. Dilijan has a tiny old town. It's literally one street. Although it's cute, I wouldn't take a trip out here just for that. But Dilijan is building a reputation as the hiker's paradise. The region offers many different hikes, of different difficulty levels. Besides that it offers some old monuments, like the monasteries of Gosh and Haghartsin. Gosh is a beautiful little town on the side of a hill. The monastery is pretty small, but has it's surroundings to mesmerize its visitors. You can also see some impressively carved khachkars from the 13th century. It was quiet this early in the morning, with just a German choir testing the acoustics. It was a stark contrast to Haghartsin, where I found many small tour groups. This monastery complex is a bigger 13th century monument, which had a big renovation by a Sheikh in 2011. It means some of the details are really nice, like the sun dial and some carvings, but it also looks more polished and simply less old.
Here are three small hikes and one day hike I recommend in the Dilijan national park.
Where to stay & eat
Dilijan has limited hostel options and unfortunately for me the hikers hostel was fully booked when I was there. So I stayed at the Green Garden Guesthouse in a private room with shared bathroom. The room was simple, but clean, and the advantage was that it wasn't located on a hill. A great plus when you're walking there with luggage. The family that runs the place is super kind and also offers meals if requested. On my 2nd night I was invited to taste some homemade cherry liquor. Together with 4 older Polish ladies I was taken to a small building filled with jars and bottles. After the cherry liquor we tasted homemade juice, called compote, wine and a local brandy. We ate fruit fresh from the garden. And in the evening dinner was served in the garden, cooked on the big barbecue we were sitting next to. I couldn't get enough of the smashed eggplant and red peppers and the meat from the grill. It's such a nice way to truly experience the local cuisine. But Dilijan has some restaurant options as well. Café #2 is a super popular spot on the small lake right at the bus station. It gives teenagers a chance to get their first work experience. I also really liked Kchuch, where they serve dishes in clay pots. My lamb cooked in yogurt was absolutely delicious!
Sevan town is, in my opinion, not so special. There is not much too see and the buildings look quite dull and uninspiring. But it is a strategic base for the Sevan lake, with access by marshrutka (the local mini buses). The Lake Sevan Hostel is quite simple, with one big room, a small kitchen and a beautiful terrace outside. I had booked with breakfast and got a meal delivered in the morning, with sausages, eggs, vegetables, bread and yoghurt. It was so much! There's also a famous café to check out: the Bohem teahouse. The walls are covered in all kinds of memorabilia; posters, souvenirs, cigarette boxes… Worth a visit! I ate dinner at what seemed to be the only restaurant in town, catering to the few tourists that were there at this time of year.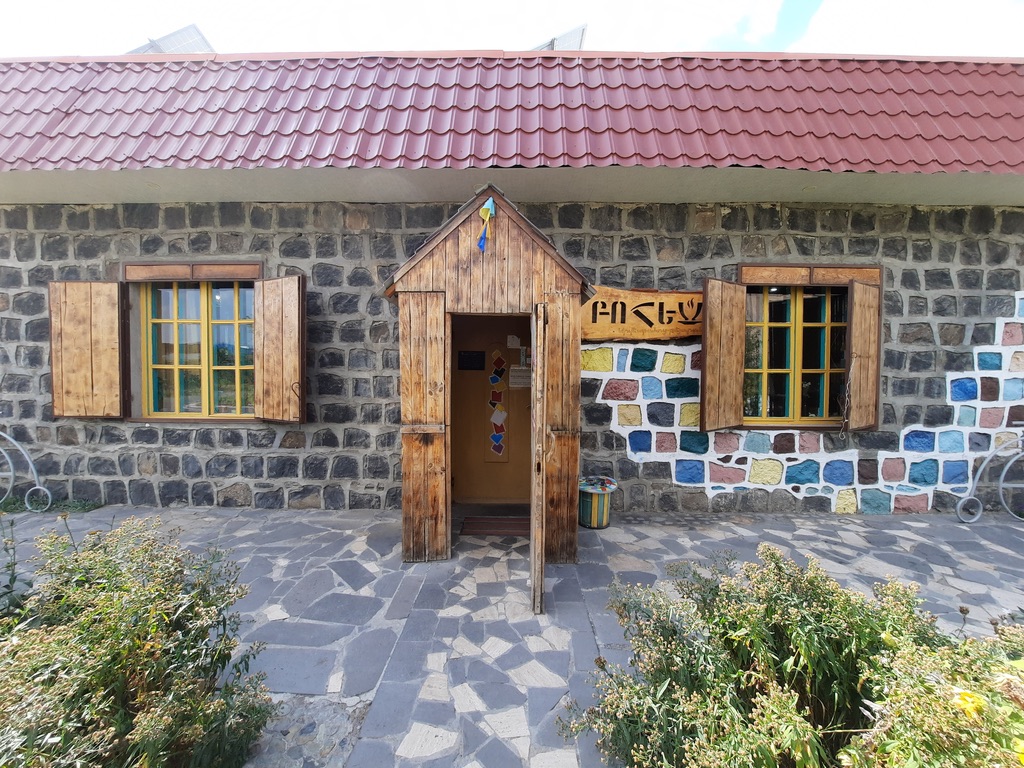 It seems like people always want to know what your favorite place was in a country. But how can you choose, when each place is so unique and each place comes with it's own memories. I mostly loved the balance in my trip. I had found a home away from home in Yerevan, where I recognized people, even if I'd been away for a few days. I saw old churches, hiking trails, the bustling city life, Soviet architecture, museums and parks. I traveled by train, taxi and marshrutka. I explored solo and joined some day trips. I met locals and foreigners and learned new things from all of them. For me traveling in Armenia felt truly like traveling again. It awakened something in me that I hadn't felt in a while: the urge to explore, to pack my bag and hit the road. And most of all, I felt so incredibly safe and at ease. I hope I get to visit Armenia again some day.