There are always certain things that stick out when you first arrive in a new place. Some places have this more than others. In Armenia I was presented with a whole new world. Everything was so different from home, and yet other things so similar. Even the language and script are so unique and so incomprehensible to me. Yet that wasn't what stood out to me. There are 6 things I noticed everywhere I went in Armenia. Six things I don't see at home. Six things that will always remind me of this country and (mostly) put a smile on my face.
Coffee machines
Armenians looooove coffee! But it seems like it can also be shitty machine coffee. There were coffee machines on every corner! I even saw a tea machine once, but coffee was certainly preferred! The funny thing is that they often stood at the edge of the sidewalk, facing the road. I guess it's this way so that drivers can quickly pick up a cup. Even though there are plenty of cafés, even small shops have a coffee machine outside.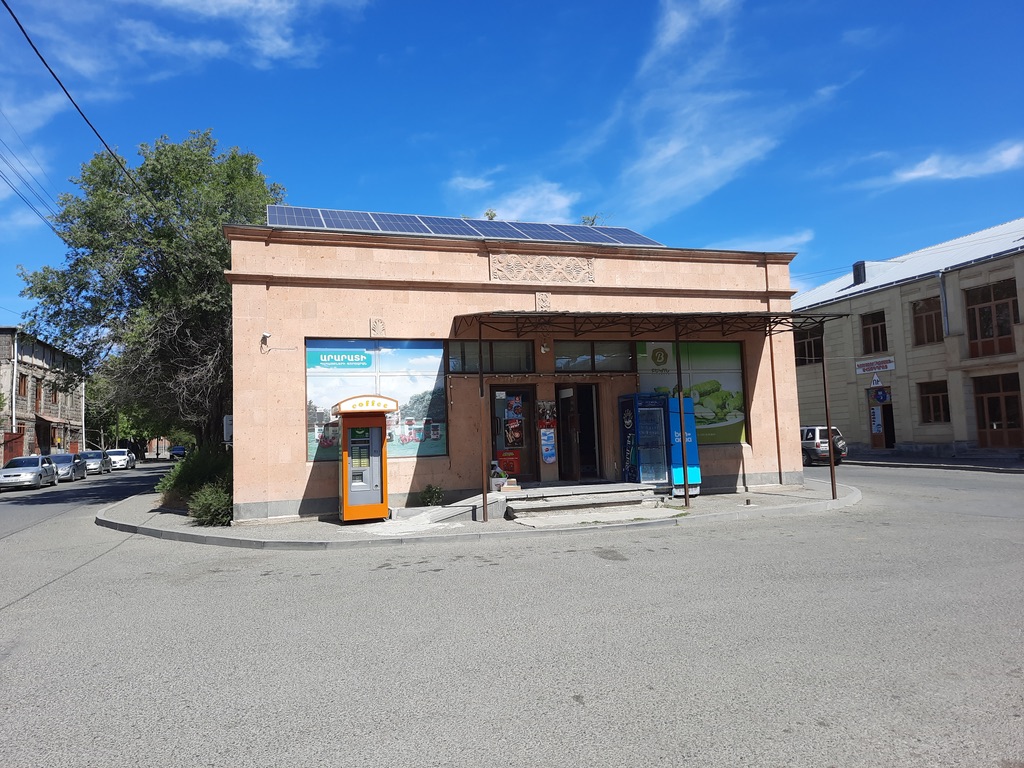 Parks with old carnival rides
The first old carnival I encountered in Yerevan made me super curious and excited. There were so many rides that just looked too old to still function. And some seemed to have questionable safety measures. I quickly learned that there were different rides and attractions in pretty much every park! Ferries wheels, boats and many other things were on offer.
As I left the first carnival in Yerevan, a tall, thin man asked me something in Armenian. He had a small booth for shooting basketballs. He was gesturing for me to try. His smile revealed a few crooked teeth in his wrinkled face. I smiled and said I wasn't very good at basketball. Well… we couldn't understand each other. Meanwhile a younger guy, presumably his grandson, couldn't stop laughing. He was sitting on a rock. I had only just arrived and was a bit overwhelmed by everything, so I didn't shoot the basketballs. In hindsight I wish I had. The man probably could have used the money.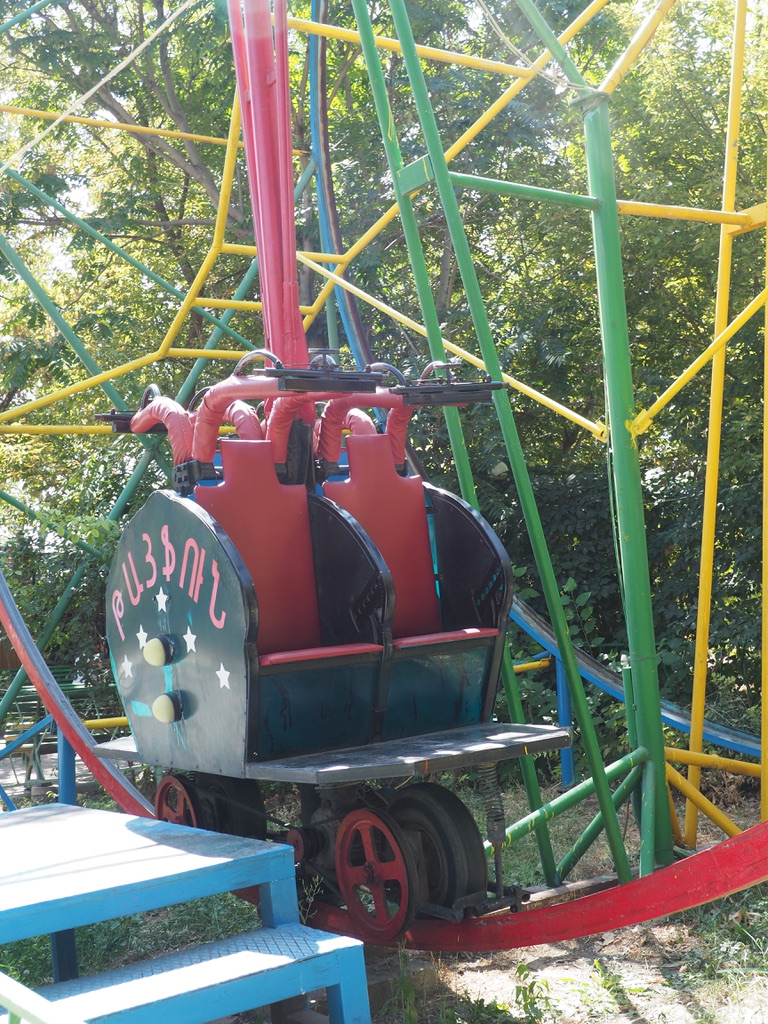 Easypay & Telcell
I learned about the interesting payment options in Armenia when I had to pay for my organized hiking trip. Instead of asking for my credit card, they asked me to go to an EasyPay machine. In the machines you can do many things, like transfer money or get prepaid phone credit. In my case, I got the account details of the tour operator, entered them in the machines, fed the machine some cash and paid for my tour. These machines were everywhere! You can find them in supermarkets, but also on the street, just like the coffee machines.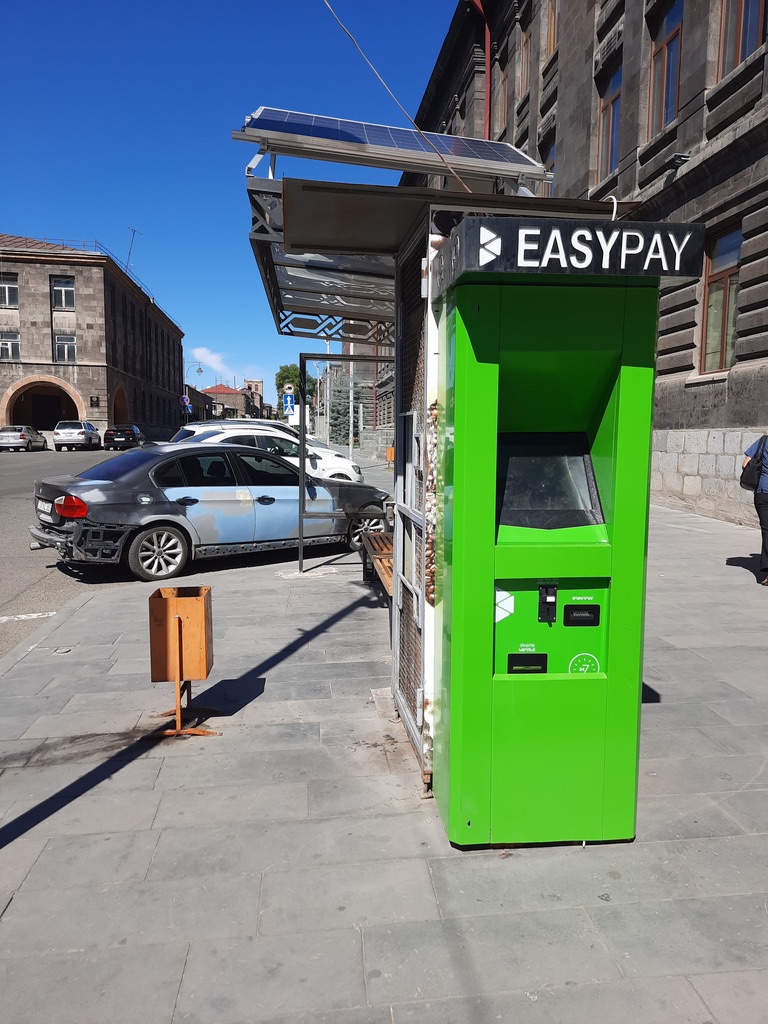 Street dogs
This one I don't particularly like. There were dogs everywhere! I immediately noticed they were all tagged and that locals were feeding them, so in general they didn't harm anyone. In Dilijan they even had posters with dog pictures, saying: "high, I'm …insert dog name… and I'm friendly and vaccinated". Some of them would walk along with me for a while, before losing interest and turning around again. In Gyumri they seemed more aggressive though. They were barking like crazy and ganged up running around, chasing each other. At times they started barking at people. I think 2 dog bites in my life are enough, so the dogs made me pretty uncomfortable, especially if I was alone.
Ladas, marshrutkas and old trucks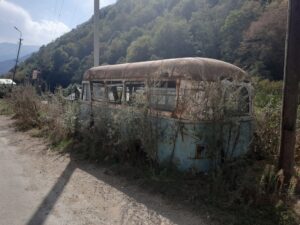 Well, this bus by the side of the road was particularly old, but I did notice the many old cars on the road. It was strange, because there were also plenty of brand new, sometimes big, cars in the mix. But especially the marshrutkas and taxis were often in a horrible state.
I remember my taxi ride from Dilijan to Sevan. My driver was a really fat man. His big belly touched the steering wheel in the small car. The windshield was cracked in multiple places, as was pretty common outside of the capital. The man was breathing heavily when he asked again where I was going. Then he nodded and we took off. I took the seatbelt only to find out the box you click it into was broken. He waved at me as if he wanted to say "you don't need a seatbelt". On the main road he hit the gas pedal and on the winding mountain road, I did think you probably need one. My driver started coughing badly, but thought that was a great moment to light a cigarette. Every now and then he tapped the top of the dashboard. Presumably the speed or gas meters wouldn't work otherwise.
And this was a quite normal experience. It was also one of the big contrasts I found in the country. The next day you could take a taxi in Yerevan in a squeaky clean new car.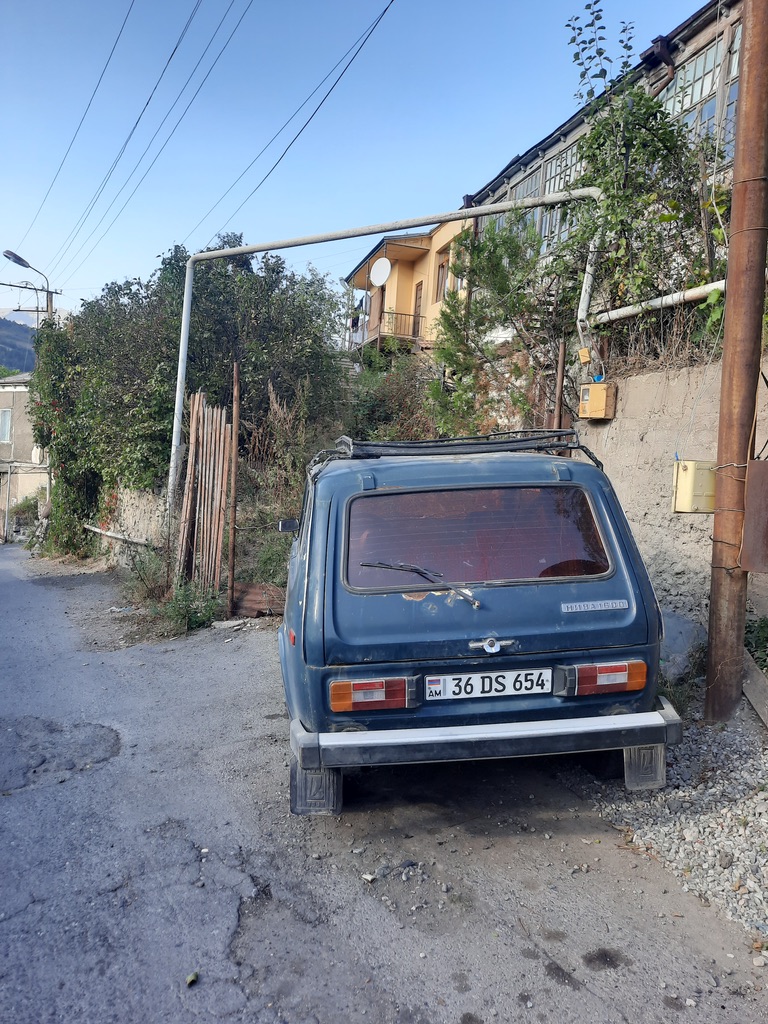 Street vendors
The last thing that I found everywhere was small street vendors. Of course I'd expected markets with fresh fruits and vegetables. And in some places, like squares, you may expect other vendors, such as the popcorn or balloon vendors. In Armenia there are people selling things everywhere. Even on a really small sidewalk in Yerevan, a stone's throw from a supermarket, someone would be sitting on the side of the street with eggs or a variety of vegetables. None of the sellers would hassle you though. They'd just sit there until someone would buy something. Another thing were the bottles of thick juice, stacked at the side of the highway. The orange liquid is made of some kind of berry, which locals squeeze and then put in reused soft drink bottles.
Again these highlights illustrate the contrast between the old and the new. It's what I love about Armenia. It's what gives the country a high comfort level, but with enough adventure to truly feel I was traveling.