Places that aren't on the itinerary are often the most surprising. While I was in Armenia, fighting broke out on the border with Azerbaijan, which caused me to change my plans. On a recommendation from someone in the hostel I decided to go to Gyumri, Armenia's second biggest city. I had not really looked into the city, until I read my guidebook on the train ride over. When I got off the train, I really felt like I was in the middle of nowhere. I knew I could walk to my hostel by following a long, straight street. It didn't feel like a city at all, more like a provincial town or something. With about 117.000 people, the city is pretty small. It had gotten incredibly cold too, which according to the hostel staff, was unusual. So I layered up and let the city guide me.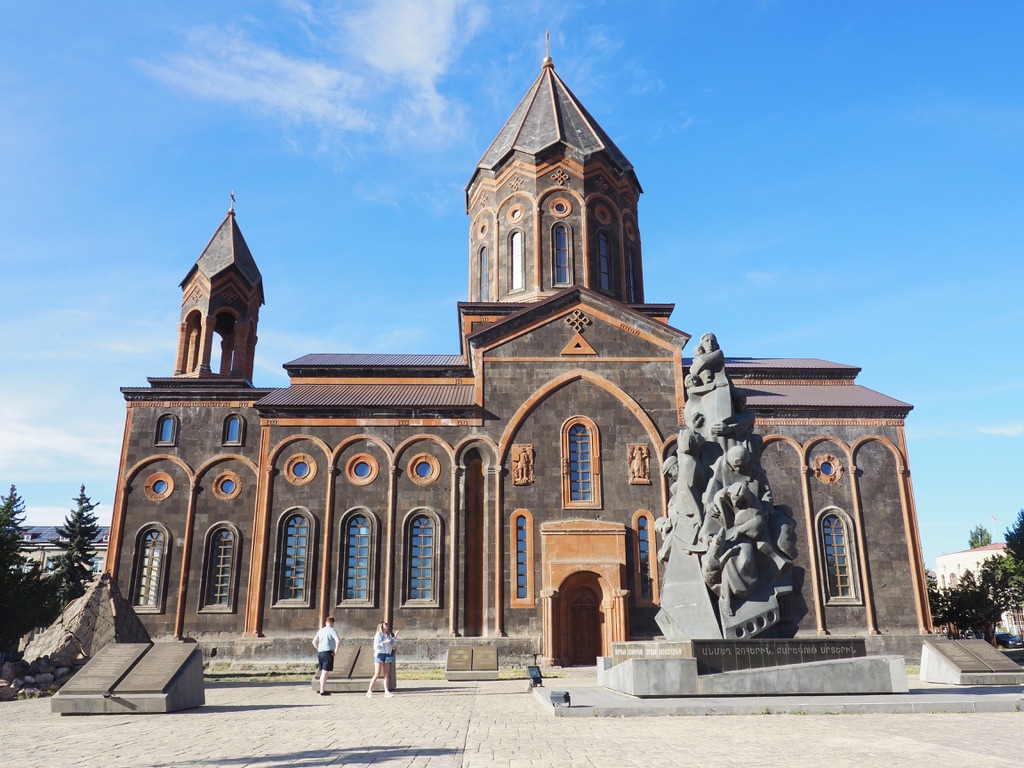 I walked past the Lady of seven wounds, the main Armenian Apostolic church of the region. It's a black building, hidden behind some trees, right at the big, busy square. Lots of cars came from all directions, taxis were parked along the street and people walked by. I saw a big cage full of pigeons. You can buy one and set it free for good luck. I decided to enter the church and found many people in prayer. As people entered, they made a cross with their hands. There was a smaller prayer room off to the side and people came out, walking backwards, facing the altar, still seemingly in prayer. A girl stood at the big bright blue altar, her hands cupped and held out in front of her. On a chair to the side a lady was crying. Others were lighting yellow candles. I wondered if it was a typical day at church, or if today was special, with people praying for the soldiers and their country.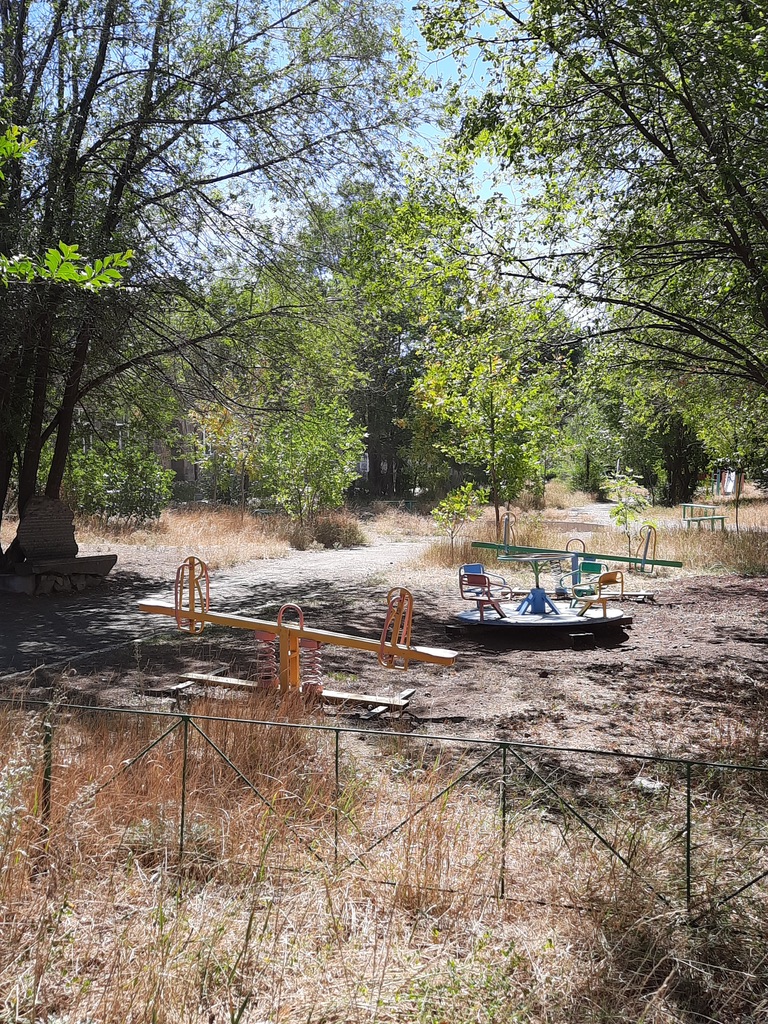 The centre of Gyumri was a museum in itself. There were beautiful buildings and I found some nice surprises. On a short, but pleasant pedestrian street I found a café with a hipster atmosphere. The served all kinds of fresh tea with delicious cakes. Next to a big church I saw a colorful door and found the courage to see what's behind it. I walked down some steps and found a basement art gallery. The owner came to talk to me and showed me some of the sculptures and paintings. Chess is a big sport in Armenia and one artist had created impressive statues inspired by it. Another artist painted tiny paintings of cats. The owner took his time to show me around and said he wasn't an artist. Then he pointed at the ceiling. It was full of books. "My art", he said. Later, I passed a tree on the street, full with colorful bird houses. I also stumbled upon the local market, with lots of stalls selling fresh fruit, meat and fish.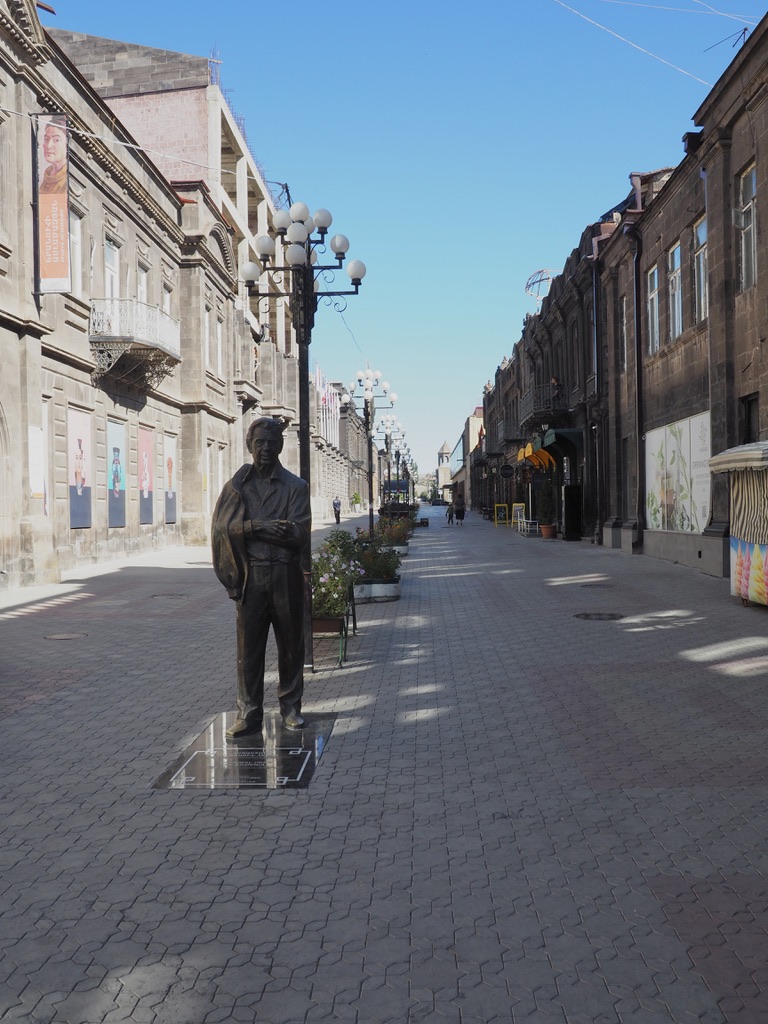 I walked around a lot in Gyumri, and one walk brought me through the central park, towards the black fortress. Central park was quite interesting and more like a dry, bushy forest area. When I walked in, my eye caught a phone booth with a life sized doll inside. Further down were actual people, taking a break on the benches. Of course central park also had some old rides. I slowly walked up to the highest point and actually got quite nice views over the surroundings. I saw the old dragon shaped boats in front of my, trees lined up, and then the city stretching out, with hills in the background. As I walked back down a man approached me. He asked if I had a good time and said I was beautiful. Luckily that was the end of his vocabulary and after hearing it a few times, I got away from this strange conversation. From there it was a pretty easy, but also boring walk to the black fortress, another one of Gyumri's interesting buildings. The big, round, black building is now an event venue. Inside is a stage and plenty of room for an audience. It had a really cool, although slightly creepy vibe. But maybe that was because of the barking dog outside that gave me the creeps… Mother Armenia was the fortress' neighbor, of course also on a hill, at the top of a long staircase. There's not much around here, but it's a neat place with killer views in all directions.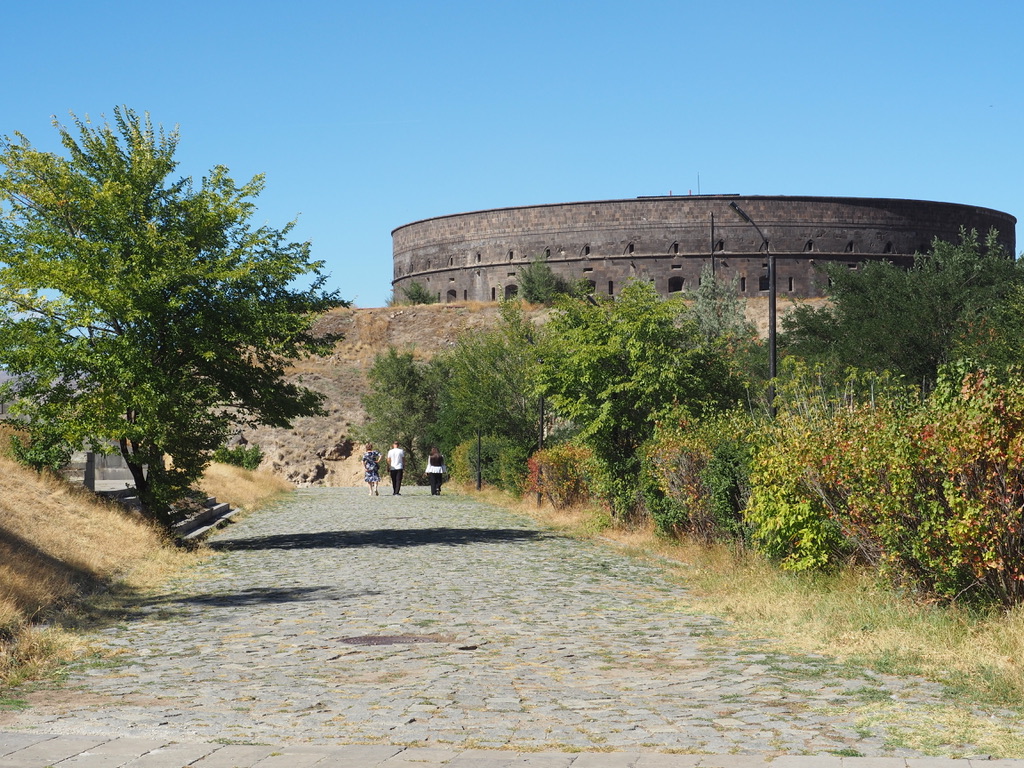 There was one thing in particular that came up in my quick Gyumri search, which I really wanted to see. At the very edge of the city stands a lonely, forgotten fountain from the Soviet days. I decided to walk out there, first following a long straight road. There was a nice park, a lot of shops and plenty of traffic. It slowly got quieter until I arrived at a big square with a freedom statue. From there I walked into a residential area with big, grey apartment blocks. The road was wide and empty. Not all roads here were paved and some featured big holes. Old vans, functioning as buses, drove by. Here and there I saw an old Lada. Then I saw this gigantic, beautiful monument in the distance. Surrounding it was… well, nothing much. There were some bushes, power lines and a random house further along. Most buildings were destroyed in the 1988 earthquake. But this majestic fountain, looking royal like a crown, was the only thing occupying the space. The concrete basin was cracked and the location bizarre, but the fountain still looks majestic.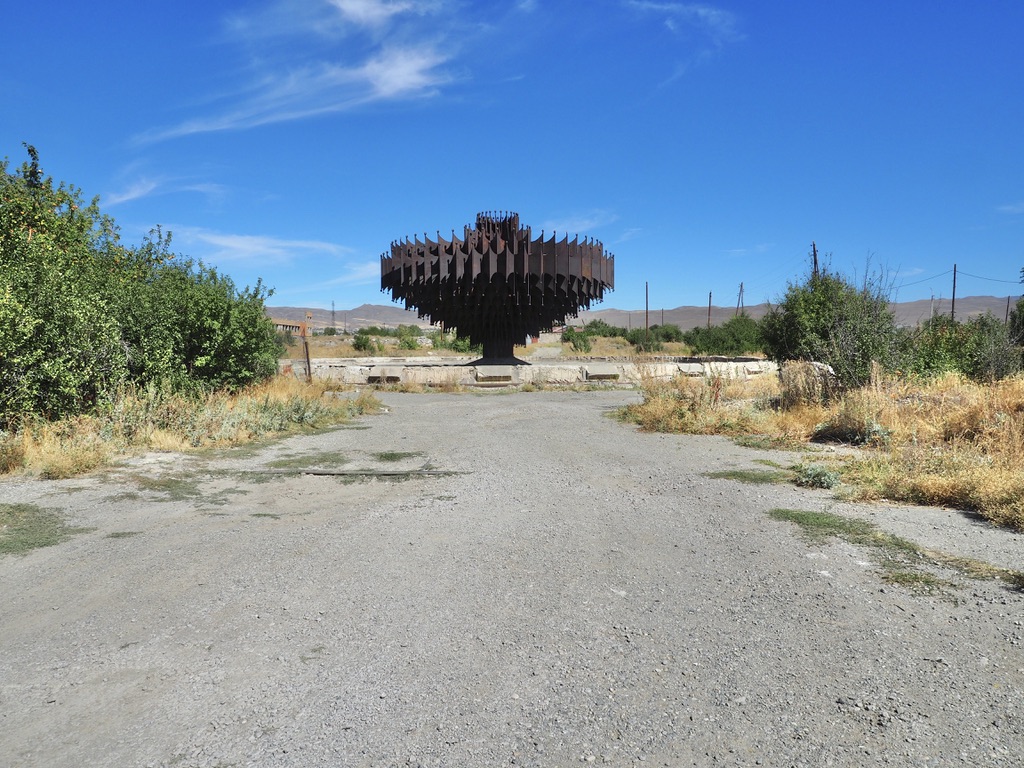 Besides the city being one big museum, there are a few real museums to explore. I loved the museum of the Aslamazyan sisters. Founded by the sisters themselves, it shows many of their own works, but also that of other Armenian artists. There were works with the Armenian landscapes and people, painted during the Soviet times. But quite special was that the sisters got to travel and painted what they came across all over the world. I loved the colorful view of the world that was on display.
The other one is the museum of national architecture and urban life. Just as I walked in, a couple of vans dropped off a bunch of day trippers from Yerevan. They were given a tour and the ladies at the museum let me join for free. It started with some city history, while we stared at a cool miniature of the pre-earthquake centre of town. We also learned about life in Gyumri. One of the special crafts is copper smithing. I had seen many very ornate rain pipes and this turns out to be a typical Gyumri design. I just wish they didn't make them so low and sticking out so far onto the sidewalks. You've got to watch where you are going! We also saw a traditional doll with 7 feathers underneath. They represent the weeks of lent, when people are fasting. Even the building itself, with the red and black tuff stone was so beautiful it was worth seeing.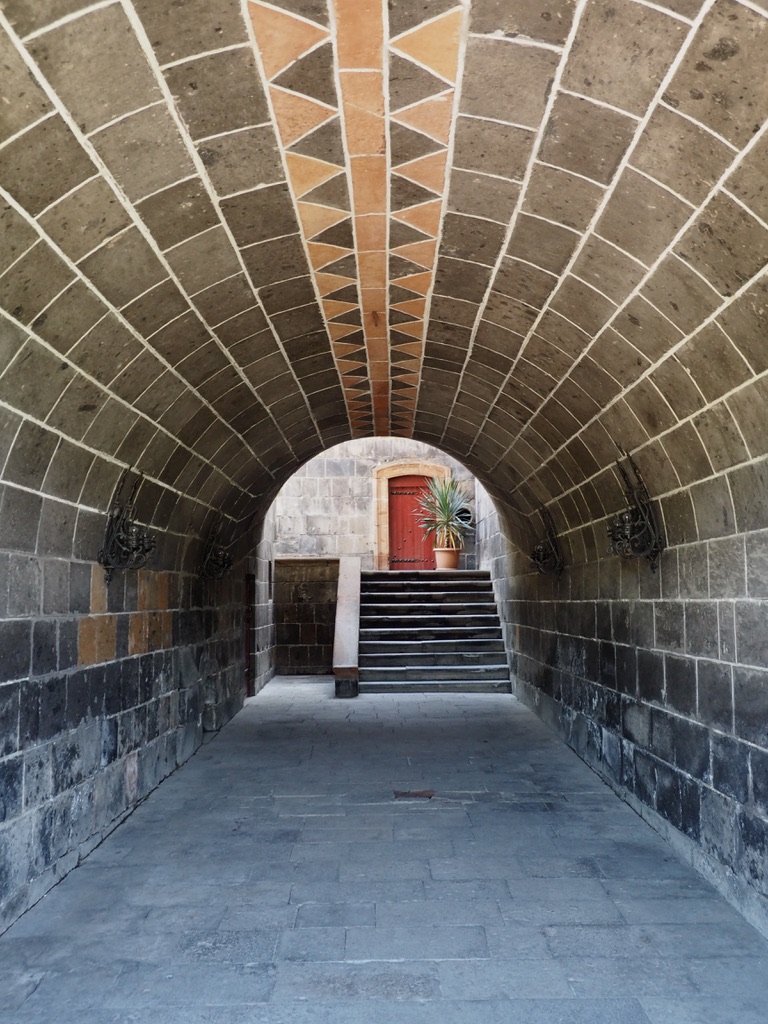 The day I left Gyumri, I first took a taxi out to Marmashen monastery. I was surprised how quickly we were out of the city. I saw a few settlements and also some random rectangular buildings that may have already been abandoned. We passed a beautiful church in the town Marmashen. After town, we took a left on a dirt road going down towards the river. There was nothing but the river and an old monastery. It seemed to be a popular place for picnics, since there were some simple benches. I was there early, so the big church was closed. Only a smaller side building had an open door. There was a modern altar inside. My driver was lovely and offered to wait while I took some photos. It didn't take long. The complex is quite small.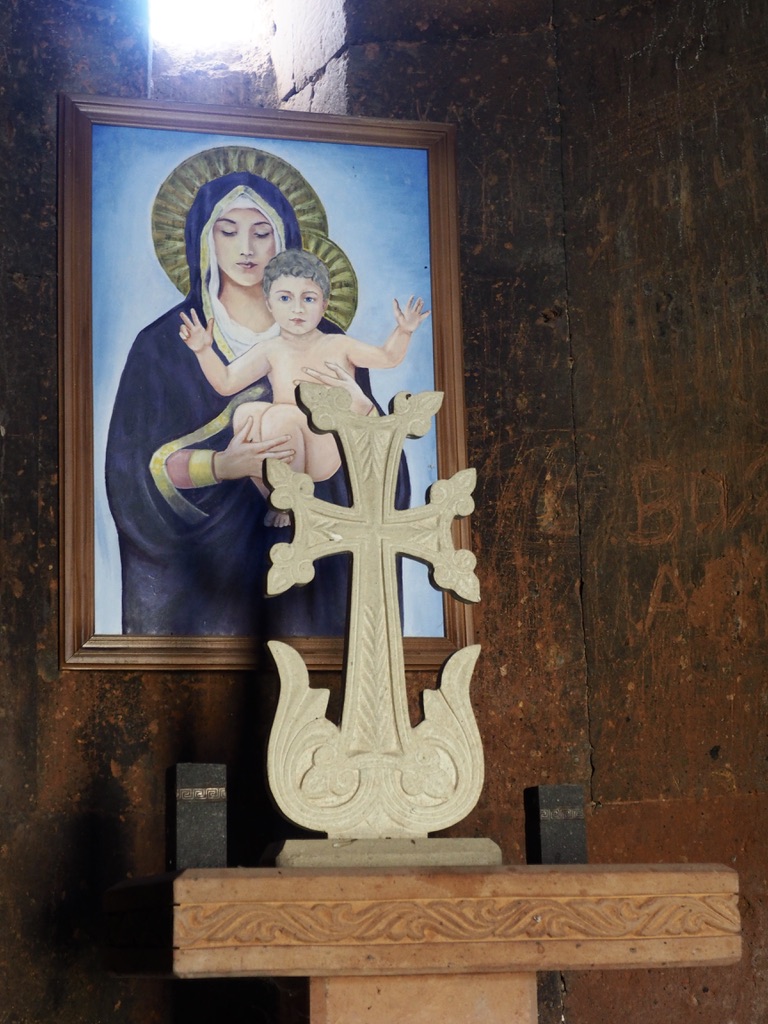 Gyumri
I stayed at Loft Hostel, a spacious place with an anti-café.
My fav. meal was at Gwoog Gastrohouse. It has the most delicious and super affordable local food.
I also tried Florence, a bit fancier and pricier, but they also had some local dishes.
For breakfast or a snack, head to Aregak Bakery and have a little break at Herbs and Honey.